Halter tops are a great way to add some sex appeal to your office wardrobe. When choosing a halter top for work, think about your workplace's formal. Halter tops can be worn in semi-formal and casual settings—they're perfect for summer in the office and for dressing up jeans on the weekend. Unfortunately, many people think that wearing a halter top isn't appropriate for business casual—but it is! Halter tops are a great way to make your outfit more exciting and unique.
Here are some styling tips for wearing a halter top to the office in style:
First, make sure it fits perfectly—no wrinkles or bunching! A good rule of thumb is that it's too tight if you can't fit two fingers between the fabric and your skin! And if there's a lot of extra space between where the strap meets your neck and your chest, it might be too big. Next, make sure that any straps are tight enough to stay up on their own without causing any chafing. If they're not, use double-sided tape on the back of each strap so they'll stay in place.
The cut of your halter top is very important. Halter tops can be low-cut or higher up on the neckline, depending on what look you're going for. If you want something more professional, go for something that covers up more skin. After you've decided how much skin to show, think about where the top should hit your body. A halter top can hit lower on your chest or higher up. Either way, make sure it hits at or above your bra line so no one gets a peek at what's underneath!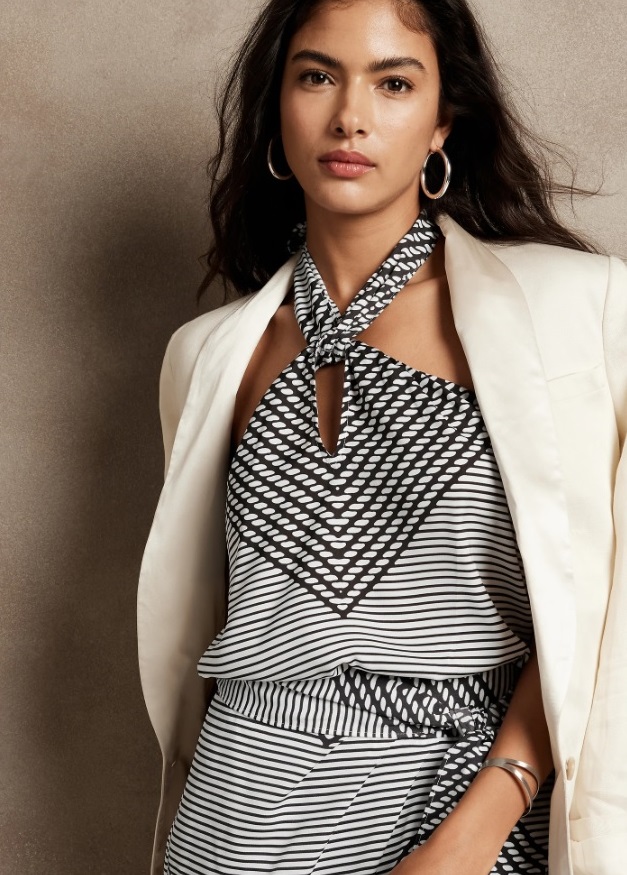 Always wear a bra and make sure the bra is seamless and strapless. It will help keep everything smooth under your clothes. Also, try using a double-sided tape adhesive on your bra if all else fails. It won't come off until you want it to and will keep everything in place throughout the day without causing any damage to your clothing or skin!
Don't just throw on any old pants or skirt with a halter top—make sure they're tailored specifically for this purpose! You want the lines of both pieces to match up seamlessly and look like they were meant to go together from day one (even if they weren't).
Halter tops pair well with high-waisted pants or skirts and some heels. This will keep your look professional while still allowing you to show off your shoulders and neckline.
Halter tops can look sexy without being provocative. For instance, if you want a look that is both sexy and professional, wear a halter top with a skirt. On the other hand, if you prefer a more polished office look, wear a halter top with pants.
---
Related Articles