When it comes to your wardrobe, if there's anything better than a classic, it's a classic that works with itself. So a vest and wide-leg pant set is a simple way to rock two wardrobe staples this spring!
Here are some styling tips on how to wear this look:
The matching jacket is on-trend, but it doesn't overpower the new dress—pair them together for a polished look or wear the pieces separately so you can get even more wear from your clothing.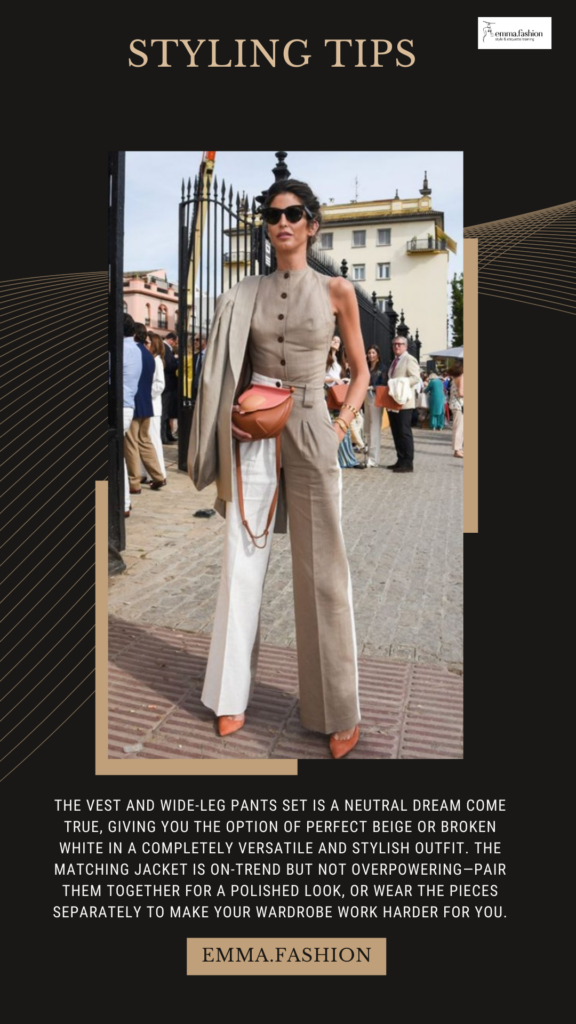 Pick a pair of pants in rich colors and luxurious fabrics like silk, satin, or velvet. This will give you an illusion of longer legs and make you appear taller. Opting for light-colored tops and darker bottoms is another way of lengthening your legs.
Add some texture to your outfit by choosing tops and bottoms of different materials. Mix and match solid and textured fabrics, such as satin trousers or linen pants with the vest. If you want to add even more texture, choose a cotton top underneath the vest or add a blazer, a silk scarf, or a hat.
You can also style this outfit to make it more eye-catching by adding some bright colors! Pick one color and style it with accessories in that shade: scarves, shoes, earrings, hats—have fun with it! Just be sure that if your accessories have a lot of detail or texture, they're not competing with each other. Instead, you want them to complement each other so that everything stands out!
This look is a fun spin on the classic separates and gives you a chance to experiment with textures, colors, and patterns.
---
Related Articles