Styling is an art that takes a lot of practice and experimentation.
There's no one way to do it when it comes to styling. You can be edgy, you can be classic, or you can be somewhere in between. But whatever your style, there are some tried and true tips that will help you get the most out of your clothes.
Fit is the key
The first thing that we know for sure is that every outfit must fit well. It's almost impossible to make an outfit look chic and pulled together if it doesn't fit right. So, make sure all the pieces fit you properly, and there's enough room for a comfortable range of motion, especially at your shoulders, bust, and hips.
 Regarding styling, it's important to remember that it's better if the clothes are a little bit loose than too tight. For example, if the top is a little more oversized, you can always add a belt at the waist or tuck it into a skirt or pants to make it look better on you. But if a skirt is too tight and doesn't give you the mobility to walk correctly, it's not flattering, and it might not be worth wearing at all.
Therefore, if some pieces fit better than others, don't worry! You can always add some accessories to adjust and create the illusion of a proportional outfit that fits almost perfectly.
Choose delicate fabrics
Delicate fabrics have the power to elevate your style and draw attention to their unique designs rather than to any fit issues.
Choose fabrics that move with your body and avoid stiff materials such as polyester blends or woolen sweaters made from scratchy yarns. The secret of the fabric is making every piece of clothing flow naturally and revealing the body shape.
Look for fabrics that drape nicely on the body and fall in a flattering way on the figure (like silk). Quality clothes make you look more attractive, reveal the body's natural lines, and enhance shape.
Draw attention to jewelry
Wearing jewelry is a way to express yourself, whether being loud and proud or keeping it low-key.
Jewelry can be the exclamation point of your entire look and bring your personality alive when you wear them with intention. So whether you are wearing a simple tee and jeans, or a formal gown, adding a few pieces will make all the difference in your appearance.
The key to wearing jewelry is choosing pieces that fit your style. For example, if you love minimalism, choose small dainty pieces instead of large statement jewelry. Also, ensure they go well with other accessories such as scarves and belts to create an ensemble that works well together.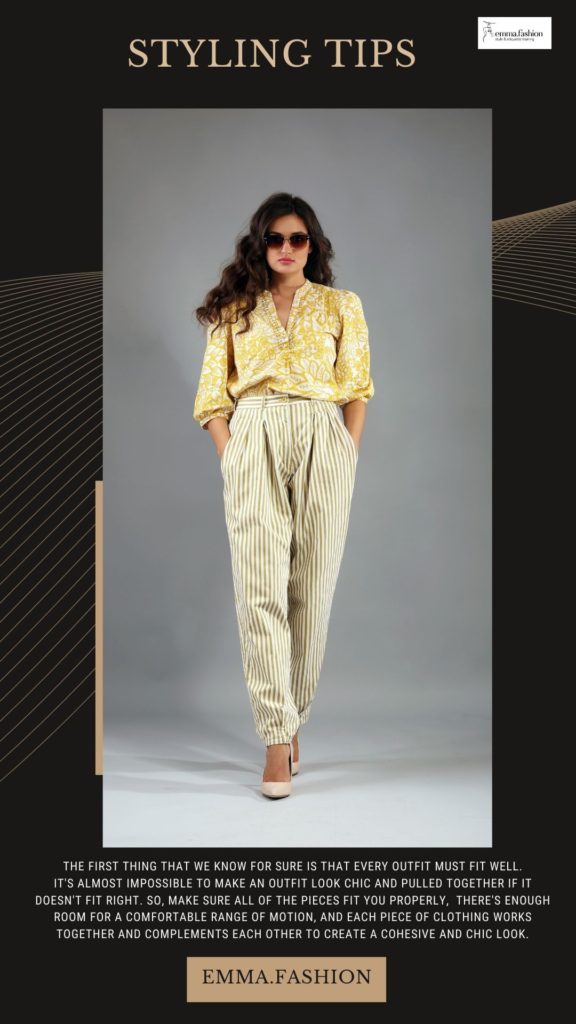 Pay attention to details
The secret is in the little details, which are the key to creating a chic look. When you're getting dressed in the morning, take the time to make sure everything is in place and neat. Are the hems pressed and clean? Are there any loose threads? Are buttons secure? Is there a belt cinched at the waist?
These little things can make all the difference in making your outfit feel like it was made for you (instead of just thrown together). And don't forget about accessories; your shoes, jewelry, and purses all play their part in creating an overall look.
Add layers
Every piece matter to bring together a chic look. So, when you style your clothes or put together outfits, you should always consider adding just one layer that can make your outfit look more put together and stylish.
Layering is a great way to add depth and dimension to your outfits. It can also help you create different looks with the same clothes, giving you more flexibility with your wardrobe.
For example, try layering a silk blouse over a sweater if you want to add some texture to your outfit. The softness of the fabric will contrast with the rough texture of the sweater in a way that looks great. Or, if you want to wear something casual with something formal, try layering a button-down shirt over jeans for an exciting juxtaposition between casual and formal.
Layering is an easy way to add some style points to any outfit. It's a great way to look like you put more thought into your outfit than you did. You can layer multiple shirts, jackets, or whatever else you want—it's all about the look you're going for!
In conclusion, when layering, make sure that you're wearing clothes that work together and complement each other, and make sure that they fit well!
---
Related Articles