As the leaves change and the weather cools, fall presents the perfect opportunity to enhance your sense of style and embody that sought-after "expensive" appearance. To attain a sophisticated and high-end look during the fall, paying meticulous attention to details is imperative, with a strong emphasis on high-quality fabric choices, timeless silhouettes, and a refined palette of neutral colors.
Let's delve into the essential components that will elevate your fall fashion and help you exude an aura of luxury.
Opt for Classic Silhouettes
Expensive-looking outfits often feature classic silhouettes that never go out of style. Embrace timeless pieces such as trench coats, blazers, and tailored trousers for a sophisticated look. These items can be mixed and matched to create various outfits, making them a valuable addition to your fall wardrobe.
A well-tailored blazer, in particular, can instantly elevate your look, whether paired with jeans for a casual outing or worn over a dress for a more formal occasion. Opt for neutral shades like black, navy, or charcoal to maintain a timeless appeal.
Embrace High-Quality Fabrics
One of the most significant factors in achieving an expensive look in the fall is the quality of the fabrics you wear. Investing in high-quality materials elevates your style and ensures your wardrobe's longevity. Consider fabrics like cashmere, wool, and suede for a luxurious touch. These materials feel incredibly soft against the skin and exude a refined, upscale vibe.
Cashmere sweaters, for example, are a timeless fall staple. They provide a cozy and elegant feel, making them the perfect choice for a luxurious autumn look. Choose neutral or earthy tones like beige, gray, or camel for a sophisticated touch.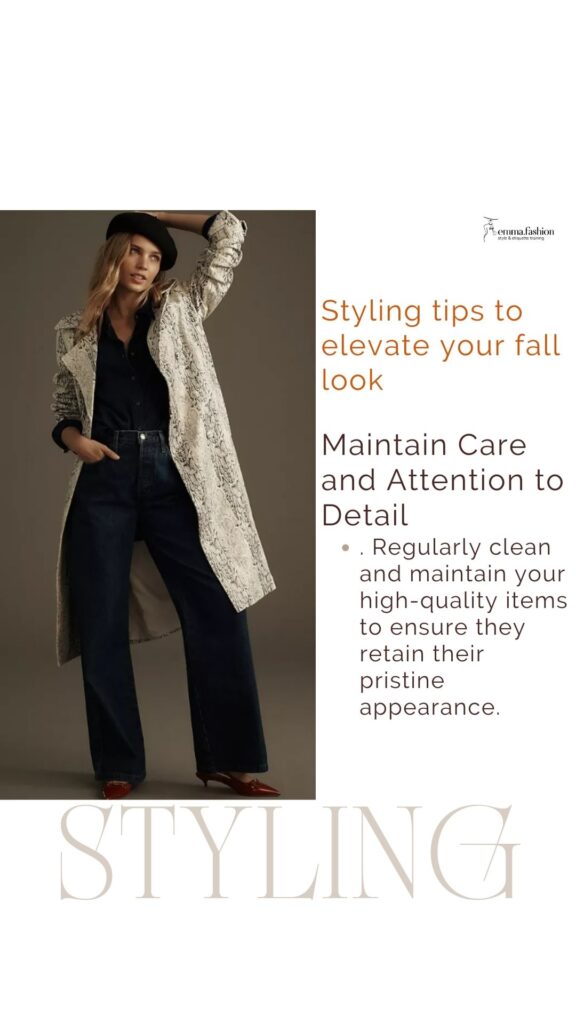 Stick to Neutral Colors
Neutral colors play a crucial role in achieving an expensive fall look. They exude elegance and simplicity while allowing you to mix and match your outfits effortlessly. Shades like black, white, gray, beige, and camel create a sophisticated and refined aesthetic that's synonymous with luxury.
Incorporate neutral colors into your fall wardrobe through versatile pieces like turtleneck sweaters, tailored pants, and overcoats. These items can be worn together or separately, creating various stylish and expensive-looking combinations.
Pay Attention to Accessories
Accessories can make or break your fall look, so choose them wisely. Opt for understated, high-quality accessories that complement your outfit. Classic pieces like leather gloves, a well-crafted leather handbag, and a timeless pair of ankle boots can enhance your style.
Additionally, consider investing in a statement piece of jewelry, such as a classic watch or a delicate pendant necklace. These accessories can add a touch of sophistication and elevate your entire look.
Maintain Care and Attention to Detail
Looking expensive in the fall is all about the details. Pay attention to the care of your clothing and accessories. Regularly clean and maintain your high-quality items to ensure they retain their pristine appearance. Additionally, consider investing in tailoring to ensure a perfect fit, as well-fitted clothing can instantly make you look more expensive.
Achieving an expensive look in the fall is not about emptying your wallet; it's about making smart choices and investing in high-quality pieces. By focusing on high-quality fabrics, classic silhouettes, and neutral colors and paying attention to the details, you can effortlessly elevate your style and embrace that luxurious autumn aesthetic. So, this fall, make your wardrobe shine with timeless elegance and sophistication that exudes luxury without the high price tag.
---
Related Articles