What's old is new again! The pencil skirt is back for the fall season, and a mid-length is a perfect option if you want to look put together without going overboard. It's super flattering on everyone and works well with both heels and flats. Plus, it's versatile, so that you can wear it with almost anything!
For the fall season, a mid-length pencil skirt will take you from day to night and everywhere in between. The perfect combination of comfort and style, this skirt is your secret weapon for looking great.
Midi pencil skirts are perfect for office wear because they're not too long—they just hit right at the knee. This is a great way to show off your legs but not be too distracting at work. Midi pencil skirts also work well with heels or flats so that you can customize them based on your style.
Styling tips from office to evening events
Conservative look
n a professional setting, the pencil skirt is the perfect balance of feminine and professional.
Pair a pencil skirt with a blazer and heels for an extra touch of class.
The blazer keeps things sleek and polished, while the heels give you the height and confidence to enhance your appearance.
The two-piece set blazer and skirt are a must in a conservative environment.
Choose neutrals colors like navy, dark grey, or green tones.
Consider a flared skirt rather than a body-hugging style. A flared skirt will show off your curves without making you look too voluptuous.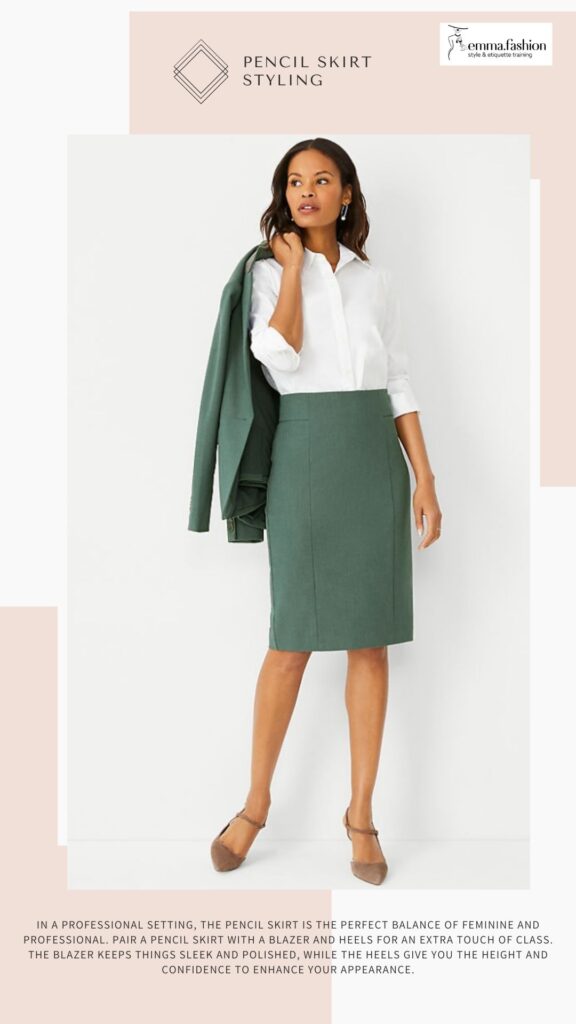 Professional modern look
A bright pencil skirt in a bold color is an eye-catching piece that offers a modern and professional look.
To complement the skirt, wear something more formal, like a collared shirt or a pussy bow blouse.
It will give you a look that's both traditional and modern at the same time.
A blazer in a neutral color is a great way to add some polish to your outfit, whether you're going to an important meeting or want to look sharp at work.
Smart casual look
Try wearing a pencil skirt with a mock neck or a turtleneck top for a smart-casual look. It's a great way to look professional but still relaxed!
To get the smart casual look, go with blocked colors like black and white to keep your look from being too casual. This will keep your outfit looking clean and sharp without having to worry about clashing colors or patterns.
The key to a smart casual look is simplicity. You don't want to look like you're trying too hard, but you also don't want to look too casual.
Accessories are usually essential to this look, so they should be simple and minimalistic. A simple watch or bracelet is enough to get the job done.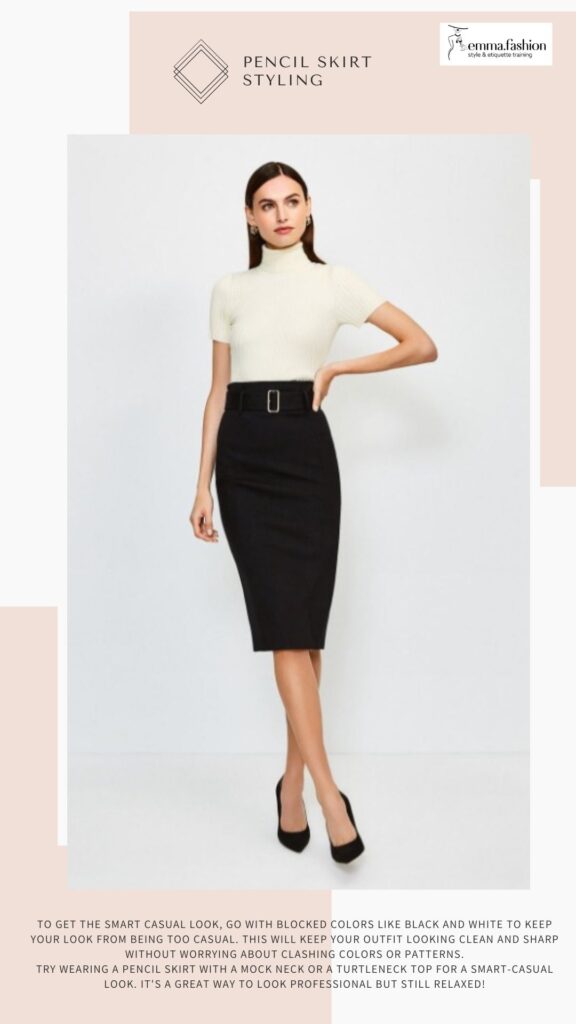 Evening look
Evening events require semi-formal attire, and a blazer should always complement your outfit. Choose a neutral color like black or navy, but don't be afraid to play with different textures.
For evening events, a pencil skirt in sequin or lace fabric can be a perfect choice.
Lace and sequin fabrics are an excellent choice for night-time events because they add just enough sparkle without being too flashy.
When styling a pencil skirt for an evening event, keep the rest of your outfit simple and elegant.
A simple black top and a statement necklace will work well with this look.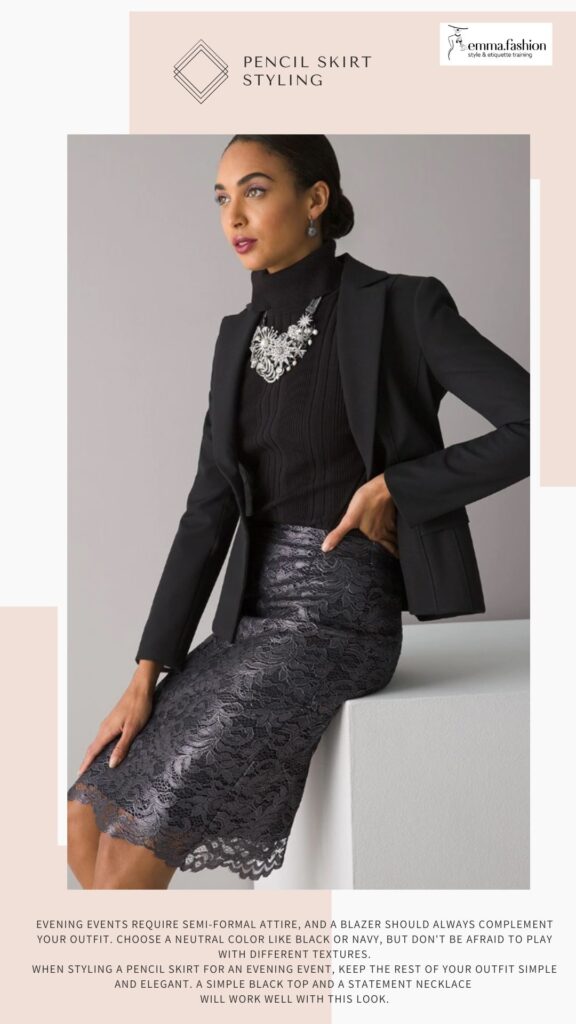 Pair with the right shoes
Pencil skirts are made to be worn with heels because they help elongate your legs and make them look slimmer.
However, pencil skirts also bring attention to your legs, so it's best to wear them with shoes that complement this feature.
A pair of black pumps with a pencil skirt is a classic combination that it's flattering to pull off in any setting.
If you're looking for something more casual, try a pair of ballet flats or loafers. These styles are great when you want to be comfortable but still look polished.
Consider pairing a body-hugging pencil skirt with pointy-toed heels or ankle strap shoes for a more sophisticated look. It can help balance your silhouette and create an hourglass figure when you attend a late evening event.
---
Related Articles