Nowadays, tailored pieces display more relaxed and loose-fitting silhouettes that bring surprising ways of styling, from classic with a modern twist to more appealing combinations.
Tailored pieces are the backbone of a professional wardrobe and can be styled in both ways, traditional and contemporary. One big challenge that women encounter is to break off from conventional wear. If you want to get rid of the old styling rules, you can start experimenting with different styles, textures, patterns, and colors that can help you create a modern tailoring look. But above all, you must begin changing your attitude toward contemporary styles.
I hope you will find some inspirational outfits that provoke you to try modern styles that suit your personality.
Modern tailored pieces
Pants come in relaxed silhouettes with looser-fitting styles.
Blazers reveal strong shoulders with a boxy boyfriend fit or a more tailored shape.
Midi skirts in different styles are the perfect transitional pieces from summer to fall season.
Relaxed formal wear
When styling formal wear, like a pinstripe suit, make sure to wear fitted tops with sleek and neutral accessories to give that relaxed and nonchalant appeal.
Stick with neutrals hues such as grey, white and cool tones.
Dress down a pinstripe suit with a turtleneck and a pair of loafers in contrasting colors.
A pantsuit with imperfect stripes and wide-leg silhouette gives an entire look a relaxed yet professional flair.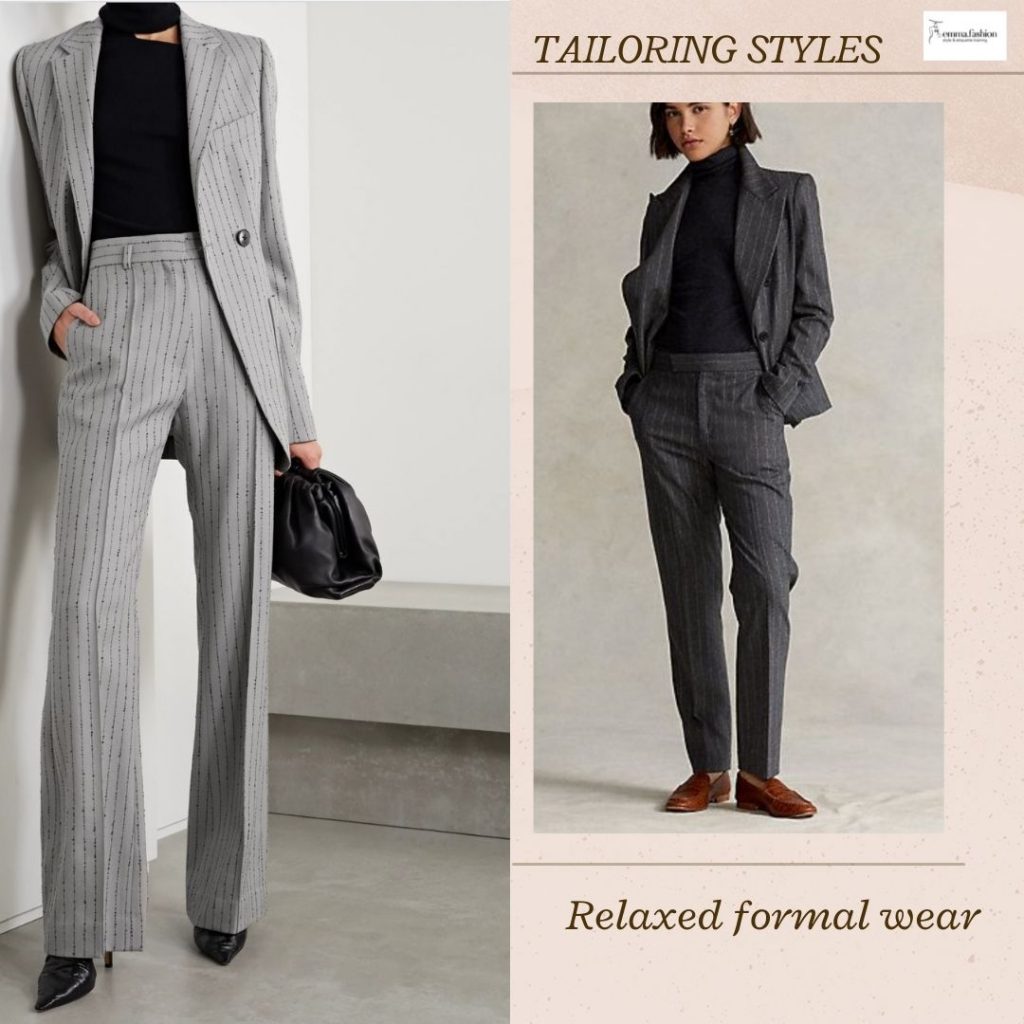 Blazer with strong shoulders
A modern approach to wearing a pants suit is pairing it with a patterned shirt for a sleek and effortlessly chic look.
Make sure the blazer had padded shoulders to give the power look, and the sleeves hit slightly above the wrist to show off the shirt's sleeves.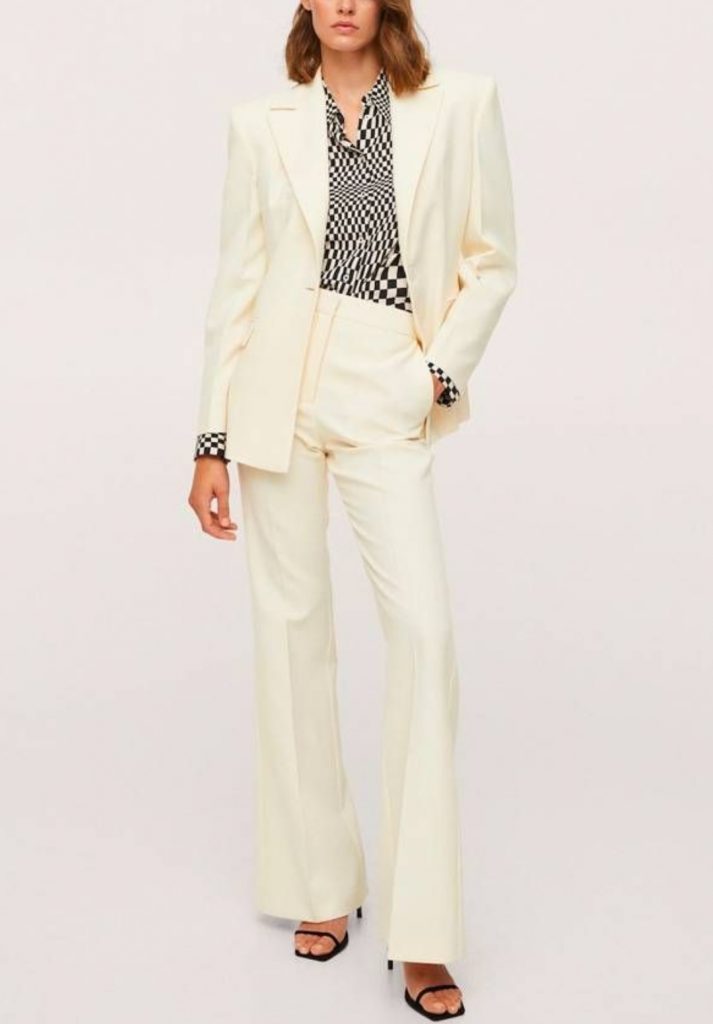 Skirts & Knitwear
Skirt and cardigan are the perfect fall combo for office days when you want to feel cozy yet stylish. Wear underneath the cardigan a modern polo shirt to create a smart twin set.
Take a modern approach to style the classic A-line skirt with a sporty padded jumper over a top in the same color. Team the skirt with pumps or booties for cold fall days.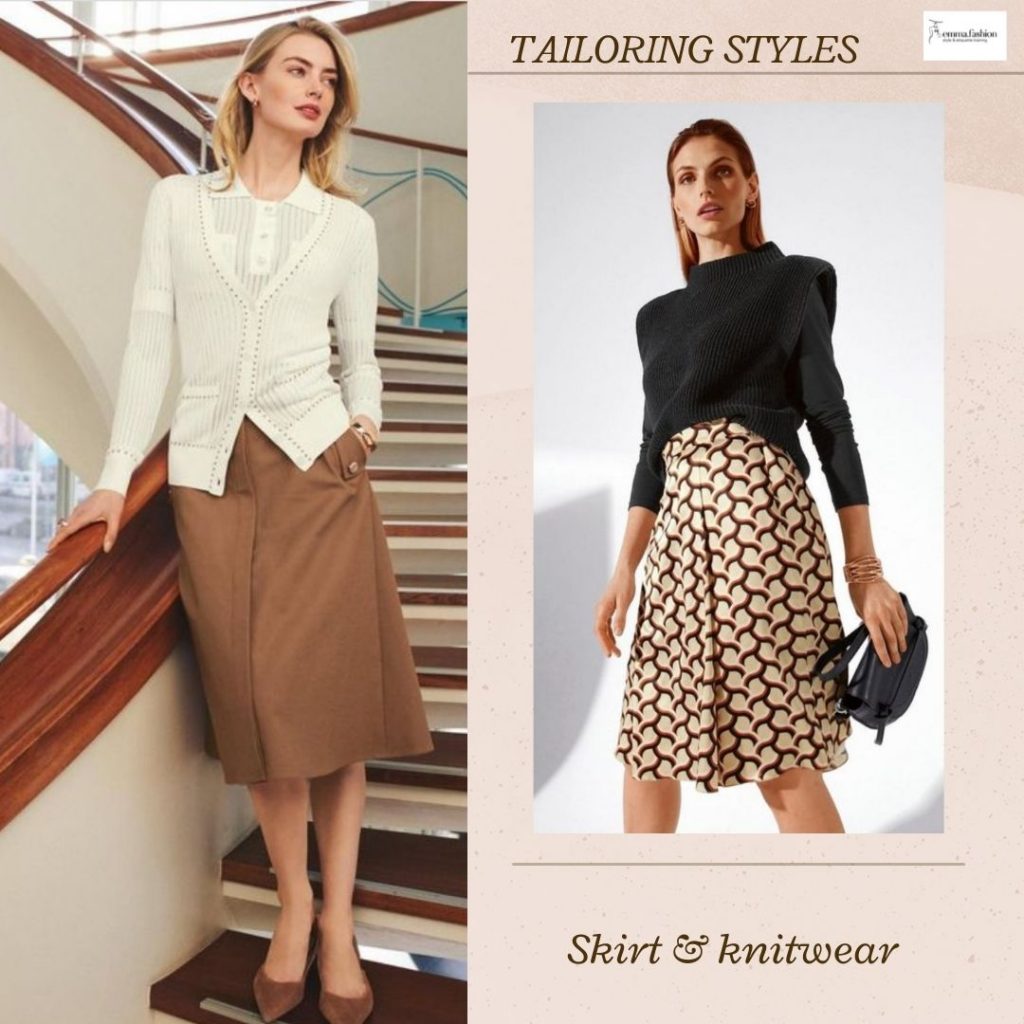 Pleated pants & fitted top
A modern way to wear tailored separates is pairing baggy bottoms with fitted tops.
Style pleated pants that sit at the natural hip with a well-fitted top and drape over a blazer to pull the look together.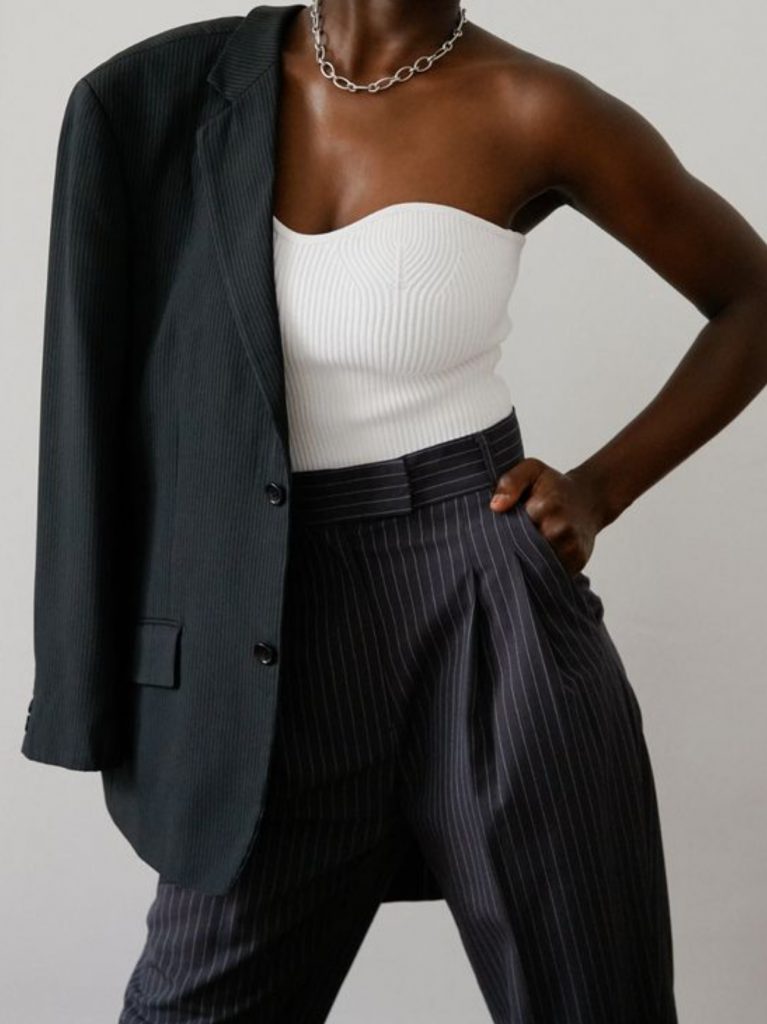 Sweater & collared shirt
The preppy style is on-trend this season, and you can never go wrong styling a striped shirt underneath a knitted sweater with pants or a skirt.
Upgrade a preppy style by wearing a v-neck jacquard-knit sweater over a crisp collared shirt paired with high-waisted flowy pants. Undone the first two buttons of the shirt and tie a silk scarf for a chic factor.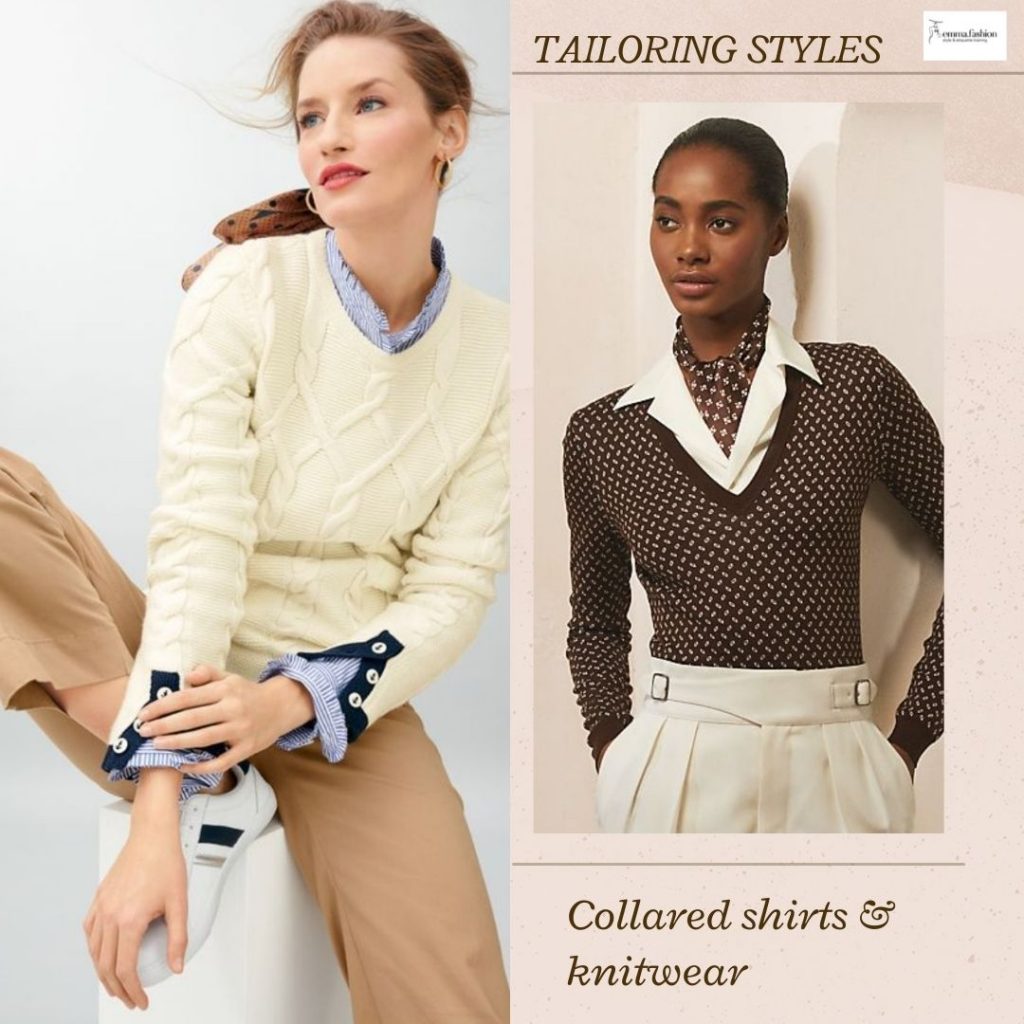 Chic layering
Long cardigans and robe coats are the chic layerings to transitional dressing for the fall season.
Style one over a pair of tailored pants and collared shirt and chinch it at the waist to feel cozy.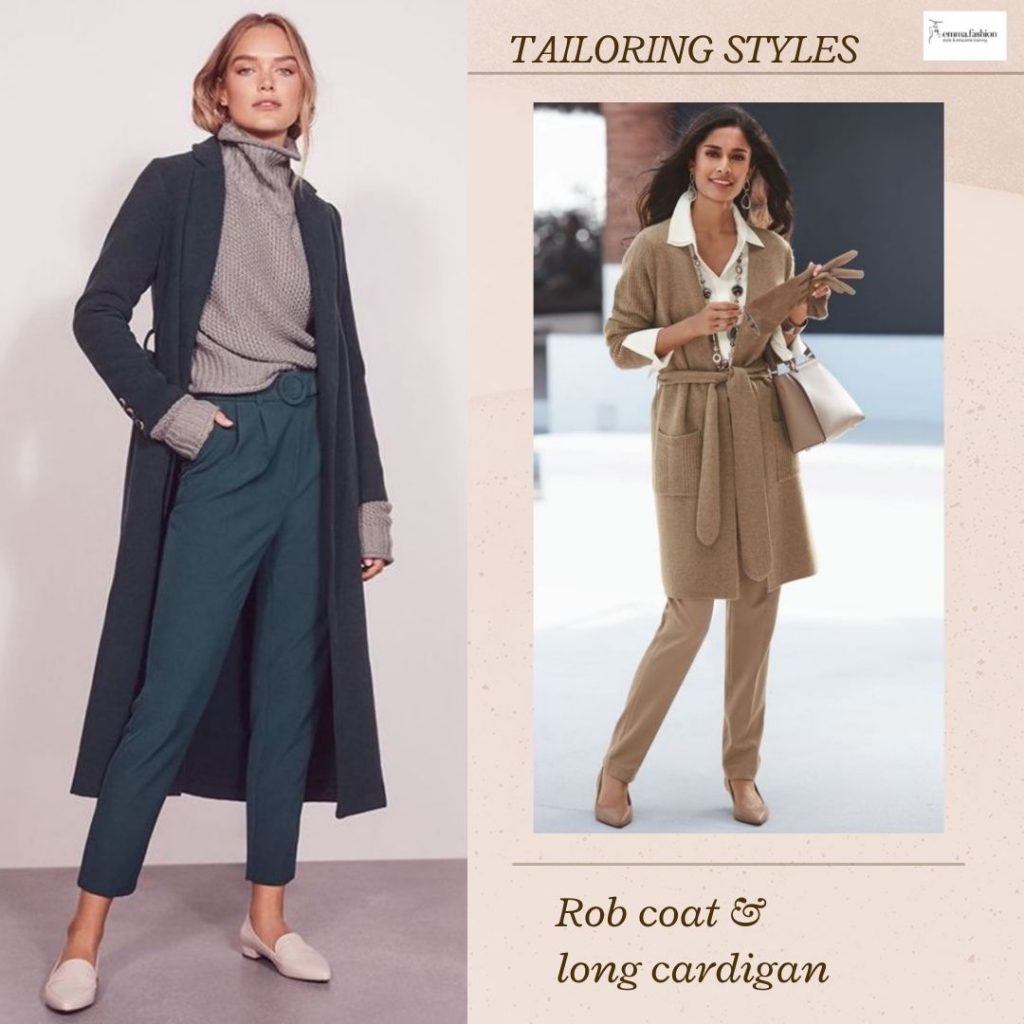 ---
Related Articles