Summer is the perfect time to show off your personal style. Whether you're strolling along sandy beaches, attending backyard barbecues, or enjoying outdoor adventures, nailing your summer outfits is essential. By avoiding common styling mistakes and following some tips, you can create effortlessly chic looks that keep you cool and comfortable all summer long.
Here are some styling mistakes to be mindful of:
Wearing oversized or ill-fitting clothes
While loose and flowy silhouettes can be comfortable in the summer, finding the right balance is important. Avoid wearing excessively baggy or oversized clothes, as they make you appear frumpy or shapeless. Instead, opt for well-fitted pieces that flatter your body shape.
2. Neglecting proportions
Pay attention to proportions when putting together your summer outfits. For example, if you're wearing loose-fitting bottoms like wide-leg pants or a maxi skirt, balance them with a more fitted top to create a flattering silhouette. Similarly, if you're opting for a flowy maxi dress, consider adding a belt to define your waist and add structure.
3. Going overboard with prints
Summer often brings out vibrant and playful prints, which can be fun to incorporate into your outfits. However, wearing too many bold prints or combining multiple prints in a single outfit can create a visually overwhelming look. Choose one statement print and balance it with solid-colored pieces to create a cohesive and stylish ensemble.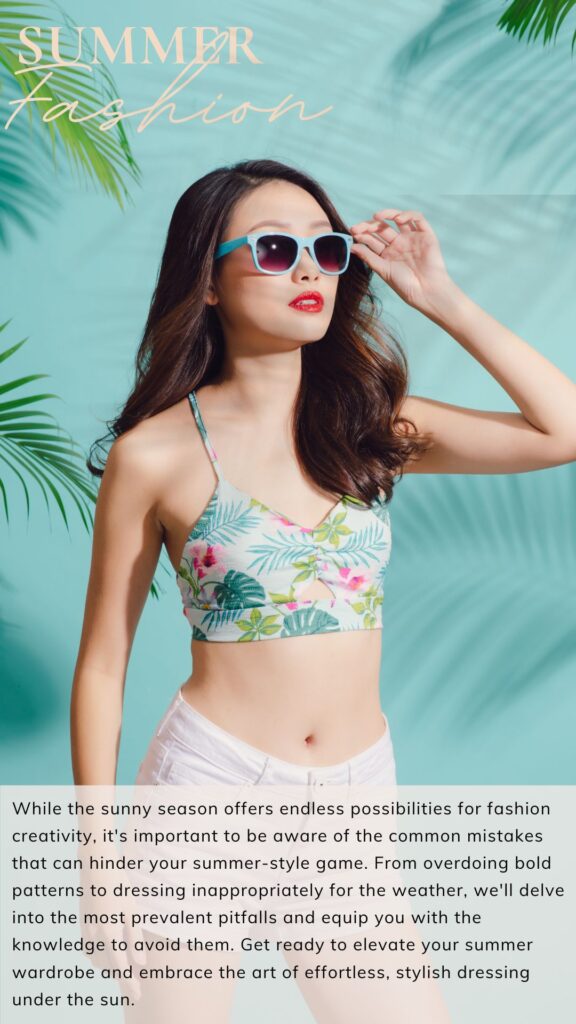 4. Over-accessorizing
While accessories can enhance your summer look, overdoing it can detract from your outfit. Avoid wearing too many accessories at once, as it can create a cluttered and overwhelming appearance. Instead, choose a few key accessories that complement your outfit and add a touch of style without overpowering it.
5. Not paying attention to undergarments
The proper undergarments can significantly affect how your summer outfits look and feel. Avoid visible panty lines by opting for seamless underwear. Invest in a well-fitting strapless bra or bralette for shoulder-baring tops or dresses. Choose nude or skin-toned undergarments that blend with your skin tone to avoid showing through light-colored or sheer fabrics.
6. Disregarding appropriate footwear
Your choice of footwear can make or break your summer outfit. Avoid wearing socks with sandals, as they can look mismatched and unfashionable. Similarly, wearing heavy or formal shoes with casual summer outfits can create a conflicting aesthetic. Opt for lightweight and breathable shoes like sandals, espadrilles, or canvas sneakers that complement your summer style.
7. Forgetting about versatility
Summer often involves various activities and occasions, so it's essential to have versatile pieces in your wardrobe. Avoid having a closet full of one-time-use items and instead invest in items that can be easily mixed and matched to create different outfits. Choose versatile staples like neutral-colored bottoms, basic tees, and lightweight layers that can be dressed up or down.
While the sunny season offers endless possibilities for fashion creativity, it's important to be aware of the common mistakes that can hinder your summer-style game. From overdoing bold patterns to choosing inappropriate footwear, apply these styling tips and get ready to elevate your summer wardrobe and embrace the art of effortless, stylish dressing under the sun.
---
Related Articles