Choosing the right neckline is key when you're dressing for business. A blouse can be an attractive way to show confidence and professionalism, but it's important that the top fits properly and doesn't show too much cleavage. And the right neckline can make all the difference in your look, whether you're at work or out on the town.
Some women prefer a high neckline, which is great for hiding flaws and keeping your look professional. On the other hand, some women prefer a lower neckline, which can show off their shoulders and collarbones. Whatever your preference, keep in mind that you'll want to make sure your blouse doesn't reveal too much cleavage. It's generally considered tacky to wear anything lower than a V-neck for professional attire. And if you choose a low neckline, make sure it's not too low!
The best necklines for work are those that are moderate in length and straight or curved, with no plunging designs. So, it would help if you avoided anything that would draw attention to your chest or cleavage area. When choosing a blouse, pay attention to how high-cut it is—you don't want to show too much skin or your bra line.
When it comes to the business world, there are a few rules of thumb that can help you look your best. The first is to choose the right neckline for your profession.
Here are some of the most popular options:
V-neckline
V-neckline is a great option for women who want a professional yet feminine look. It's also very flattering on most body types.
The V-neckline is a classic business blouse style that works well for women in the workplace. This style gives you a more sophisticated look than other necklines but lets you show off your curves without being too revealing.
When choosing a V-neckline for professional settings, keep in mind that a wide V will draw attention to your bust, while a slim V will make your neck appear longer and more elegant.
The V-neckline can be paired with any color and style of skirt or pants, but it is best paired with a pencil skirt or straight-leg pants. It also looks elegant when paired with high heels or flats.
If you're wearing a shirt with a V-neck, ensure that it fits appropriately and isn't too tight on the shoulders or loose around your chest—otherwise, it could detract from your professional appearance.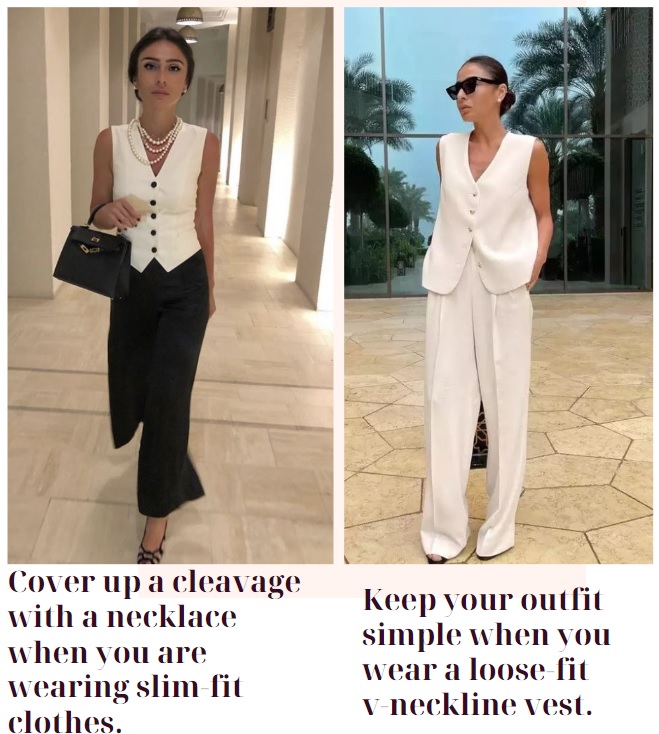 High collar
A high collar is an elegant choice for a formal or professional look. When you choose a high collar, you're making a statement. This style is elegant, refined, and undeniably professional. In addition, a high collar neckline is more closed at the top, making it ideal for wearing blazers and other business attire. They also tend to be less revealing than lower-cut options, making them ideal for work and different settings where you don't want to reveal too much cleavage.
If you want to make your outfit feel more sophisticated and polished, try pairing your high collar blouse with a pencil skirt, dressy pants, and your favorite pair of heels. When you're trying to cover up a low-cut skirt, a shirt with a high collar is an easy way to do it. The two pieces can balance each other out and draw attention away from the hemline.
Scoop neckline
If you're looking for a more casual look but still want to look professional, try a top with a scoop neckline. The scoop neckline is the perfect mix of style and comfort. It's flattering but also easy to wear—and it looks great under jackets, sweaters, and blazers!
A scoop neckline is perfect for showing off your neck, collarbones, and shoulders. It's an ideal way to dress up a casual outfit and make it work for the office or wear it with denim and a cardigan for a laid-back look.
Scoop necklines are great for anyone who wants to look put together but not too formal at work. They're also perfect for layering—the right scoop neckline can be layered under a sweater or jacket without looking too casual or revealing.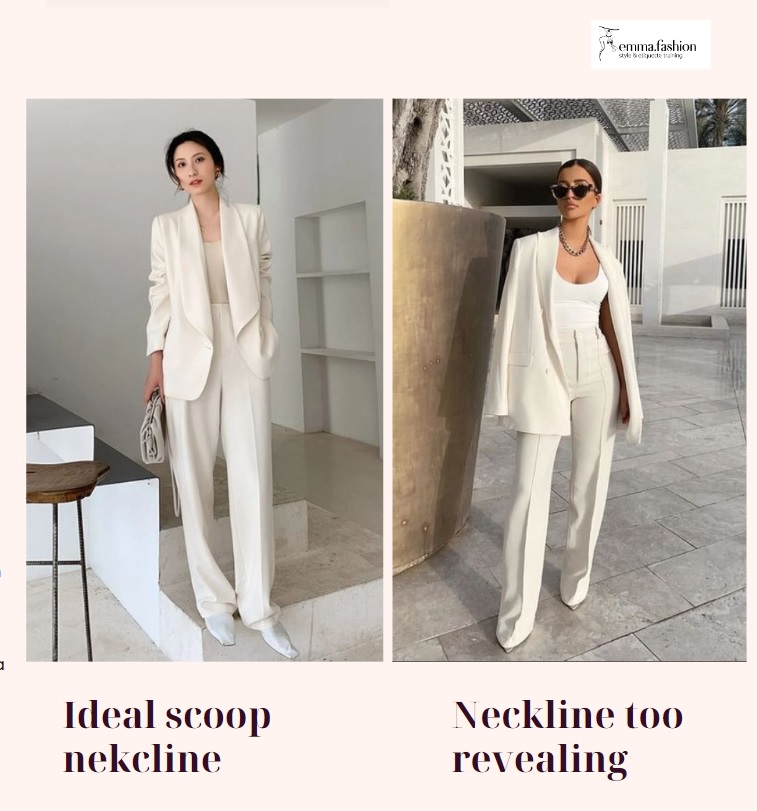 When choosing a business blouse, you'll want to consider the following:
Is the neckline too low? Will it show too much cleavage?
Does it fit properly around your shoulders and collarbone? Is it tight enough that it won't expose any cleavage when you move your arms around?
---
Related Articles