Necklaces are always great ways to spice up an outfit, but when you are wearing high neck tops such as turtlenecks or mock necks, try wearing longer necklaces to balance the proportions and elongate your silhouette. From classic and elegant chains to statement-making collars, they can add length, texture, and a pop of color to your outfit. But it's also essential to choose a necklace that matches your outfit–not just in terms of color and fabric but in terms of style as well.
Most high necklines won't show off your decolletage, but you can still highlight your neckline and make a distinctive fashion statement with a longer necklace.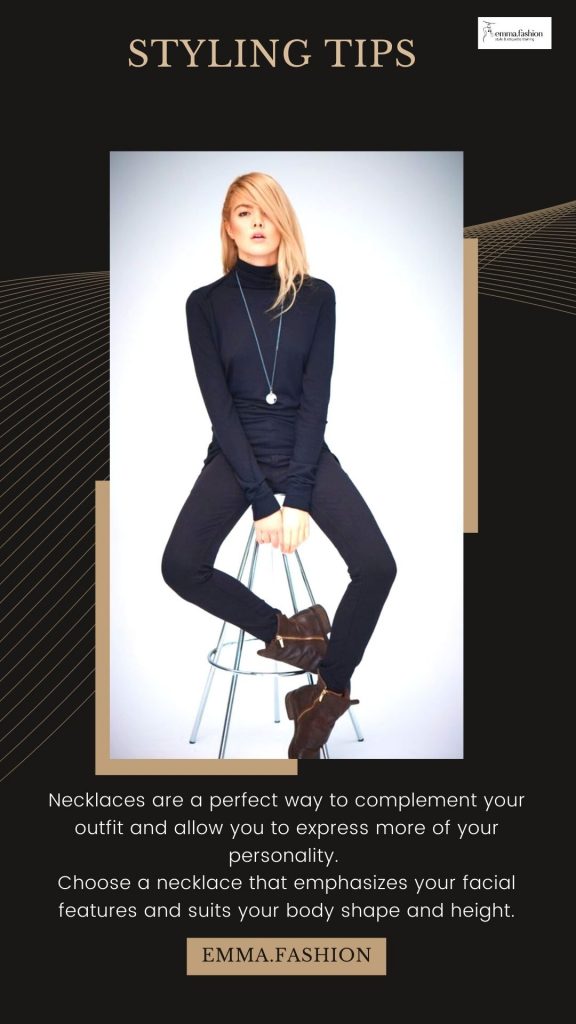 Practical styling tips when wearing long necklaces with high neck tops.
Wear a high neckline with a long chain to create a slimmer silhouette and look taller.
Experiment with layering; try layering a shorter necklace with one that falls lower on your chest.
Keep it simple; don't let the necklace overpower your outfit or draw too much attention to itself.
When wearing a pendant-style necklace, choose a chain that's the same color as your top.
Style a solid color high neck top with different lengths and textures of chains.
Textured chains are great for pairing with delicate fabric like lace or sheer chiffon. 
Always make sure that your necklace hangs at the right length when you put it on. A good rule of thumb is to make sure your necklace rests by your stomach when you stand up straight.
Find more styling tips on how to wear jewelry properly here.
---
Related Articles