A confident entrance can make a lasting impression. Displaying a confident body language makes a significant impact on your ability to impress others. You want your body language to show everyone that you are a refined lady who projects confidence and poise while looking polished from head to toe.
The concept of making an entrance may seem old fashion, but a woman who understands the secret language of the first impression than she knows that a strong entrance is a powerful weapon that demonstrates self-confidence and style.
How you enter a room matters.
A woman can often make a first great impression when entering a room wherever it is a business meeting, job interview, or social gathering.
Have you been to a party and watched as a sophisticated woman enters the room and suddenly fills it with her presence? Heads turn while she gracefully walks, greeting with a broad smile, making eye contact with a few, and shaping her way in the crowd.
Making a confident and pleasant entrance as you walk into a room sets the stage to accomplish your own best success.
Here are the best tips for making sure you can make an impressive entrance and turn heads the moment you walk into a room.
Before entering the room, you should take a moment to compose and prepare yourself mentally and emotionally.
Manage your nervousness
Pause and collect yourself, take a deep breath, think of a situation when you felt confident, and visualize making a grand entrance. Gather your thoughts, display your emotions accordingly to the situation, and make sure you appear pleasant and relaxed.
Be prepared
Check your posture, head up, shoulder back, stand up straight, remove your coat, arrange your hair, and take a last look in the mirror. Pull yourself together and display total confidence.
If necessary, you can strike a power pose stretching out your arms and legs as far as you can go or take a wonder woman stance. It's powerful, and you will be surprised how confident and self-assured you will feel.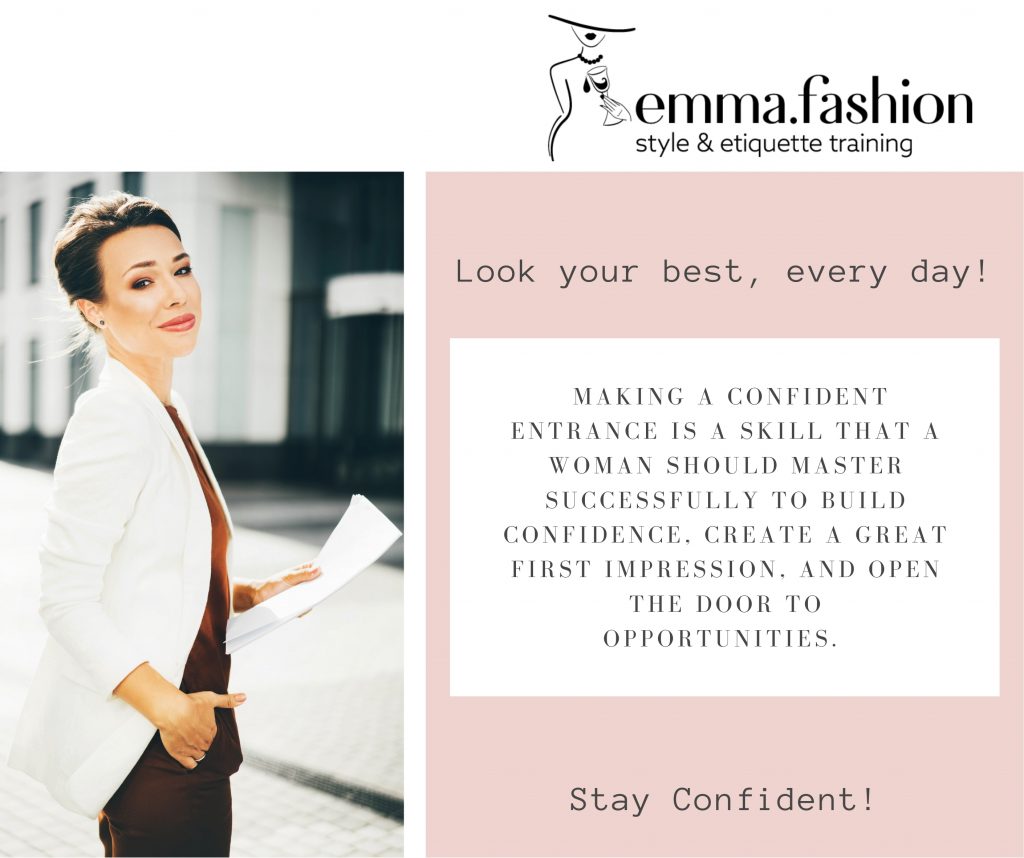 Follow these steps for a winning, grand entrance:
Enter the room with a pleasant smile, pause for a second, and make brief eye contact. Don't stand in the door, scanning the room until you find a familiar face.
Walk with certainty and conviction and step through the doorway with a sense of purpose. As you walk through the door, keep a casual and steady pace, greeting people warmly.
If you don't know anybody in the room, then enter the room and move on, make eye contact, and smile until you find someone to talk to.
Introduce yourself to the newcomers if you are in a group or as you move throughout the room. Extend a hand to shake, if appropriate, or greet with a smile or bow to make a positive impression.
Master the art of small talk to connect with people and try to gesticulate as you speak. Natural gesticulations impose a dynamic presence and help you keep your hands free rather than in your pocket.
Try to be authentic, even though you don't know all the protocol rules, and radiate a genuine smile that creates a greater sense of confidence and encourages people to interact with you.
---
Related Articles