July 4th is one of the biggest celebrations commemorating the Declaration of Independence of the United States. It is a significant anniversary event with festivities ranging from parades and concerts, fireworks at night, to more casual family and friends' gatherings, barbecues, and picnics.
This year, despite the coronavirus pandemic, we still can have a memorable celebration and enjoy the day with family and close friends.
Here are a few etiquette tips designed for the 4th of July celebration that you can bring them with you if you attend or host a party.
Hosting the party
The number one priority is to make everyone feel safe.
If you are hosting the gathering, take the party outdoor, and make this clear when you invite people. Make sure your guests are safe from mosquitoes or bugs bites by providing bug sprays or lighting a few citronella candles to keep the bugs away. As the sun sets down, you can burn some citronella torches that can add a lovely ambiance touch.
Have a designated place where people can wash their hands and provide hand sanitizer and paper towels to dry their hands.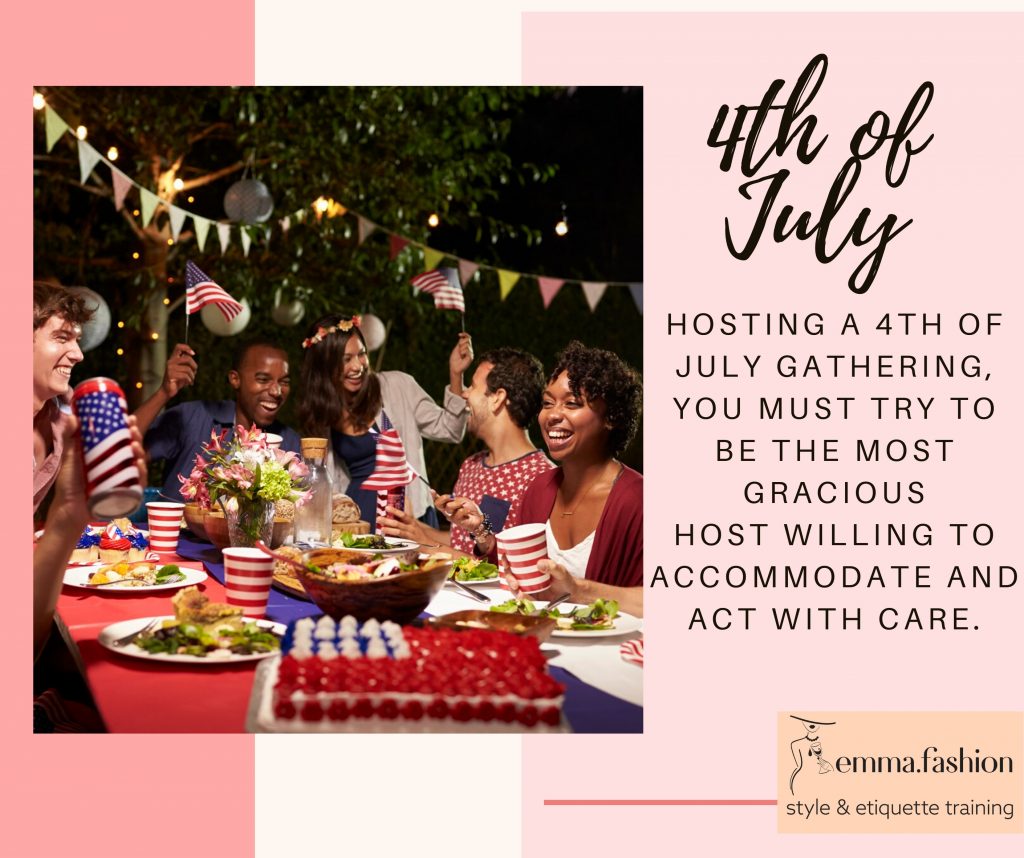 Make everyone know about the food and drinks you can provide
Show that you are a great host allowing them to contribute with food or refreshments if they have some preferences.
Provide disposable silverware, plates, and cups. Have a marker on hand and let your guest know that they should write their names on cups to avoid any confusion.
Set up an accessible drinking station, preferably with bottled drinks in a festive case filled with ice.
Let your guests know if you have a theme party
As a host, you can choose a patriotic décor with a color scheme. Make your guests feel comfortable by letting them know in advance if they should wear an outfit to match the party's theme.
Provide clear information about time and place
If you plan the party to go into the evening, make sure you have extra blankets for your guests. If not, you may suggest them to bring a layer to ensure everybody feels cozy and comfy.
If the party is by the pool, make sure to provide plenty of sunscreen, towels, and life jackets. Encourage the guests to bring their towels and additional swimming equipment if they do not feel comfortable using the ones you can provide. The ideal is to provide a room where your guests can change their clothes before and after swimming.
Be a pleasant host and show understanding.
Accidents are inevitably, especially when you have a gathering when adults and kids have a fun time. If someone spills a drink or knock out a plate, be a gracious host, and do not make your guests feel bad about a misshape. Find a good joke, clean it up, and move on enjoying the company.
Keep pets safe
Planning to have a fun 4th of July celebration sitting outside around the fire, watching the fireworks, or firing up the sparklers can be a scary moment for your furry friend. The best way to avoid any accidents is to leave your pet indoor. Make sure your pet has a comfortable place where it can feel safe and cannot escape.
Turn down the volume
Time with friends and family is special, and the enthusiasm grows while listening to music and chat over a drink. Sometimes you can go overboard and do not realize that the noise level is too high. Use common sense, turn down the music, and lower the voice volume showing respect and consideration for your neighbors.
Attending the party
Attending a 4th of July party, you should know and follow the proper etiquette rules for guests: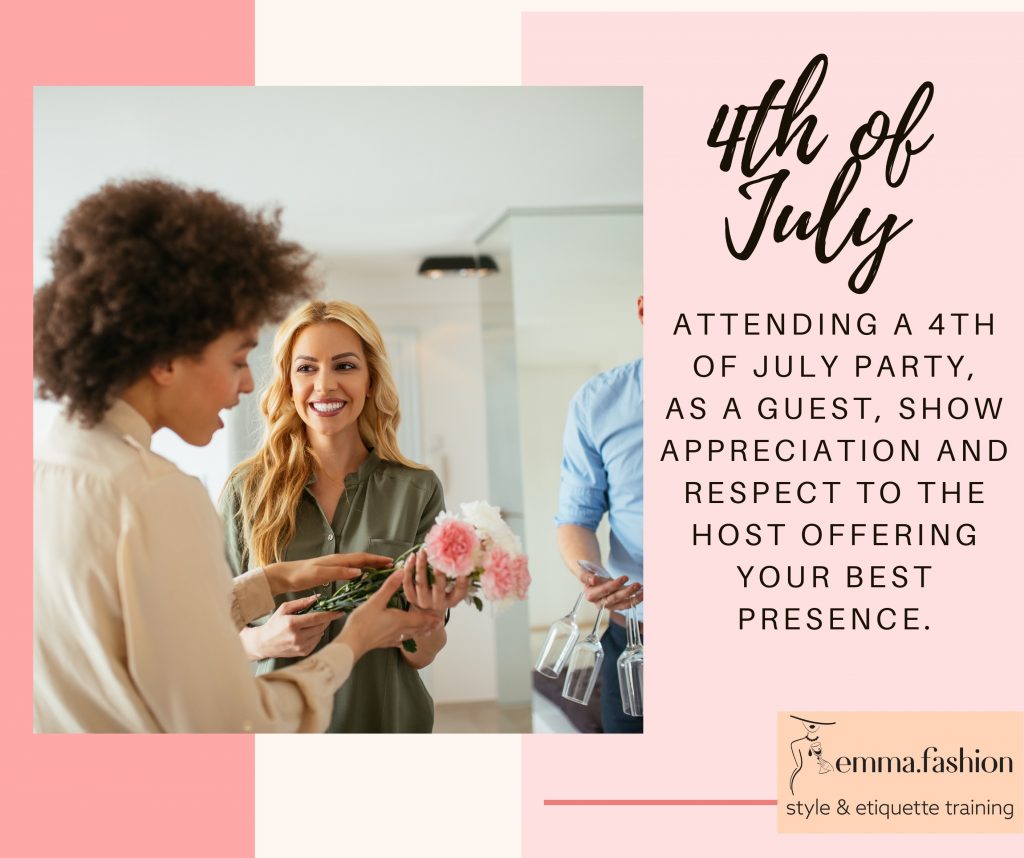 RSVP as soon as possible
You must let your guest know if you can attend the party and make sure you show up on time. If not, you should thank the host for the invite and respectfully excuse yourself for not participating in it.
Ask the host if you can contribute to the party
It is polite to offer your support and ask your host if you can help in any way. Maybe you can bring some food or drinks, or you can be helpful with other chores. Never hesitate to ask and do not insist if the host has everything under control.
Respect your host privacy
As a guest, you must ensure that you stay only in the area where the party takes place. If you need to use the bathroom and forgot which way you can get there, find the guest and ask to lead you instead of wondering in your host's home.
Try to be helpful
Help is always welcome when someone spills something. Do not wait for the host to arrive, grab some napkins or towels, and clean up the area. Showing care expresses your appreciation for the effort your host has put in for the party.
Thank you to the host
Saying thank you when you arrive and when you leave for the hospitality is a gesture of appreciation. Reinforce it by sending a handwritten thank-you note complimenting the host and adding some details to show that you put some thought in your message.
Hosting a 4th of July gathering, you must try to be the most gracious host willing to accommodate and act with care. While being a guest, you should show appreciation and respect to the host offering your best presence.
Let everyone have fun and enjoy the 4th of July celebration, adopting the principles of etiquette and commons sense while spending time with family and friends and creating memories to share for years to come.
---
Related Articles