In a world increasingly moving toward bare legs and unadorned ankles, it can be challenging to navigate what to wear with pantyhose and when to wear them. When it comes to hosiery, many women still think of it in terms of office wear or vintage fashion. However, there are other situations where pantyhose can be a stylish choice, too. You can wear them to the office, to a party, or even out on a date.
When you're looking for something elegant and sophisticated—such as a formal wedding or special occasion—you'll want to consider wearing pantyhose under your dress. They'll give your outfit an extra touch of sophistication and ensure that your legs look smooth and flawless all night long.
Pantyhose can also help you feel more confident during a formal event or job interview because they will make your legs look sleek and professional. If you want to feel more confident during a meeting with clients or co-workers but don't want to show off bare legs (or even knees), then pantyhose are the perfect solution for covering up without feeling constricted or too covered up either!
When you want to wear pantyhose for an occasion that isn't business-related, choose colored or printed ones to make a fashion statement with these accessories. And if you're going to wear them with a more casual outfit, try wearing them under your jeans and if you're looking for something even more fun, consider wearing your pantyhose with shorts or a miniskirt.
The key to wearing pantyhose is to know what types to wear in different situations and to feel comfortable and confident.
Where should you wear pantyhose?
Pantyhose are a great way to add a bit of polish to your outfit, but you want to make sure you're wearing them in the right places. So here's the lowdown on where you can and can't wear pantyhose:
Office wear
Wearing pantyhose is an excellent choice if you're an office worker or a teacher.
They're also great if your workplace requires a formal dress code because they provide extra coverage without looking too stuffy or out of place.
Job interview
While it's appropriate for women to be bare-legged in most offices, you should wear pantyhose for the interview.
Your goal is to make an excellent first impression, and you don't want to take any chances if the person interviewing you may be much older.
In addition, because pantyhose are generally considered old-fashioned, and if you are bare-legged, your interviewer may misjudge your fashion sense and consider your attire inappropriate.
Church
When attending church or temple, it's always a good idea to be as conservatively dressed as possible.
While dressy pants are generally acceptable, skirts with pantyhose can add an extra formality.
You should wear pantyhose when attending religious services with people you don't know well or their rituals.
Ceremonies
Pantyhose is the way to go when it comes to formal occasions such as weddings, funerals, or award ceremonies.
It's always safer to be overdressed than underdressed when attending formal ceremonies.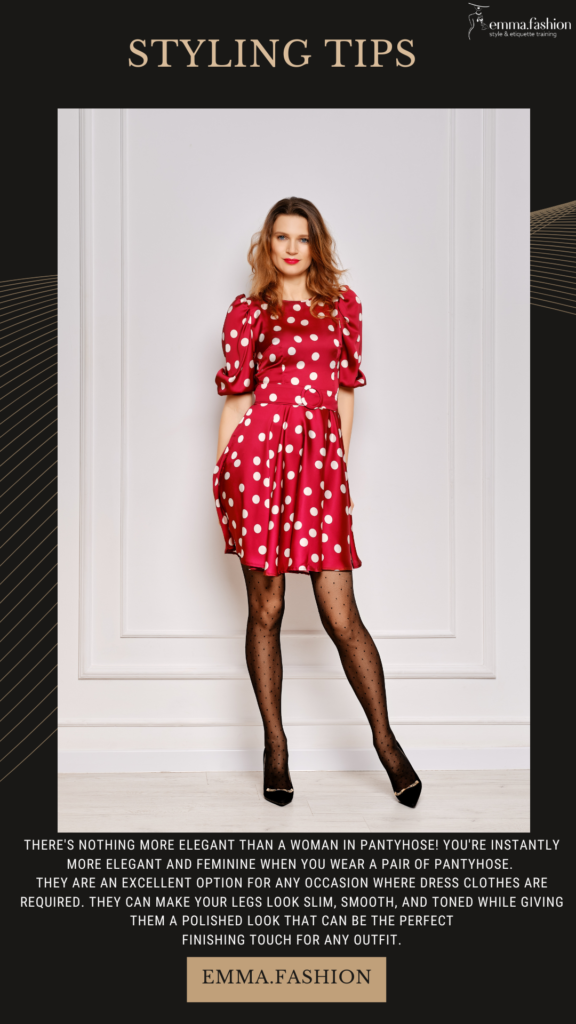 How to wear pantyhose?
Choose the right shoes
Pantyhose are not for every occasion, but when you wear them, choose shoes that match. For example, don't wear hose with slingbacks or mules shoes. They don't go well together, and they are not attractive.
Instead, pair them with closed-toe shoes like pumps and boots to create a smooth and sleek silhouette. Also, they go well with ballet flats or loafers for a casual look.
As a rule of thumb, never wear open-toed heels with pantyhose. If you're going to wear open-toed heels, it's better to go bare-legged.
Pick the right color
When you choose your pantyhose, be sure to avoid colors that clash with your skin tone. This means including nude shades significantly different from your natural skin color.
If you're wearing black pantyhose, make sure you wear the right outfit to match. For example, black pantyhose look great with a black skirt or dress, so go for it if you're wearing one of those pieces.
Wear black pantyhose with high heels and short hems for evenings when you want to show off your legs but avoid this outfit in formal or business events.
You should avoid wearing white pantyhose unless you go to a costume party.
Match pantyhose with your outfit
The best way to wear pantyhose is to pick a pair of hose that matches or complements your outfit.
First, consider what color you're wearing for your top and bottom halves, then compare that with the color of your tights.
For example, if you're wearing light-colored clothing, opt for nude-colored hose; if you're wearing a dark-colored dress, choose black hose.
When choosing a pantyhose, go with a simple design or one-color pattern. Don't choose pantyhose with fancy prints or back seams (they make your legs look bigger)
Choose the right denier
If you want thicker fabric and more support, go with a higher denier count but if you want something light, thin, and sheer, choose a lower denier count.
Choose a higher denier if you wear them with a skirt or dress. This will make sure that you do not have any visible panty lines.
Choose a lower denier for your pantyhose if you're wearing them with dressy pants so that the pantyhose will keep their shape and not add bulk to your outfit.
Women wear classic sheer and nude pantyhose with dresses to keep from baring their legs in formal and professional settings.
Consider wearing more sheer and less opaque black pantyhose when wearing a black dress.
If you're wearing a different-colored dress, choose a higher-denier pair of opaque hose to match it.
---
Related Articles