The summer is here, so it's time to break out your style! As the sun shines brighter and the temperatures rise, it's time to revamp your wardrobe and embrace the sizzling season in style. Whether you're strolling along the beach, attending a backyard barbecue, or simply going out in the city, the perfect ensemble can make all the difference in creating a fashionable and comfortable look.
Put your best foot forward this summer with the latest fashion trends, from breezy jumpsuits and maxi dresses to stylish shorts and skirts. Find the perfect summer style that will turn heads wherever you go so that this season becomes your most fashionable one yet.
Sarong Skirts
When it comes to beating the heat in style, sarong skirts reign supreme. These versatile garments offer a fashionable solution for staying cool while exuding elegance. Whether you're headed to the beach or attending a summer soirée, sarong skirts effortlessly elevate your look. Pair them with a strappy blouse or vest, along with some trendy strappy sandals, for a beach-ready ensemble that exudes casual charm. For a more polished guest look, swap out the sandals for a pair of heeled sandals to add a touch of sophistication.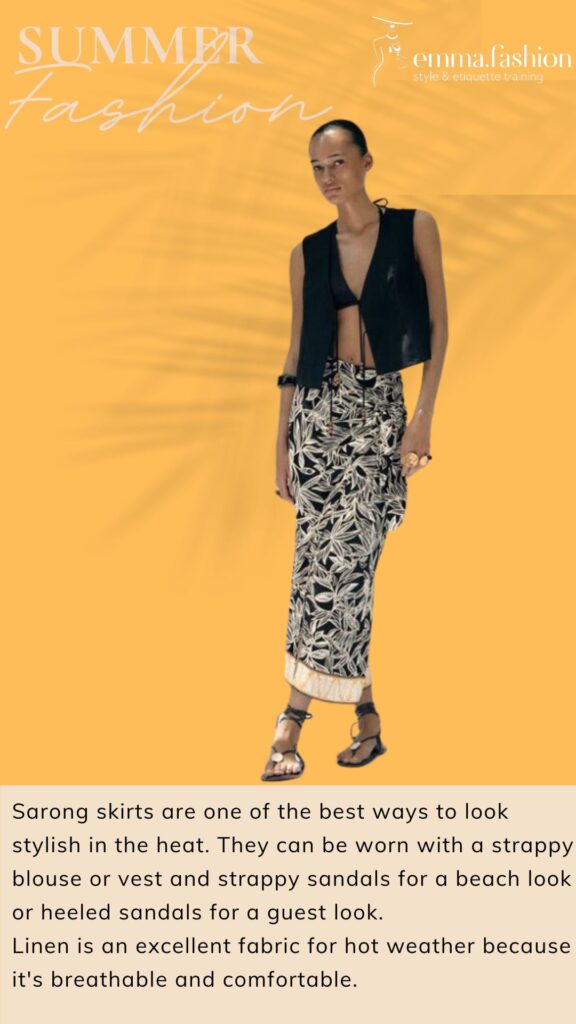 Kaftans
Kaftans are back on the fashion trend list for this summer. These loose and flowing garments have reclaimed their spot on the fashion trend list, offering comfort and style in one effortless package. With their relaxed fit and three-quarter sleeves, kaftans are the perfect choice for creating versatile outfits suitable for a day at the beach or city wear.
For a chic beach look, throw a colorful kaftan over your swimsuit, allowing its breezy silhouette to flow in the ocean breeze. Paired with a wide-brimmed hat and oversized sunglasses, you'll exude a sense of laid-back elegance that captures the essence of summer.
Regarding city wear, kaftans can be elevated to create fashionable ensembles. Cinch your kaftan at the waist with a statement belt, add a pair of stylish sandals, and accessorize with bold jewelry to create a boho-inspired outfit that effortlessly transitions from day to night.
With their versatility and relaxed charm, kaftans offer endless possibilities for summer styling. So, this season, embrace the return of kaftans and let them be your go-to garment for creating comfortable and fashionable looks, whether you're lounging by the beach or exploring the city streets.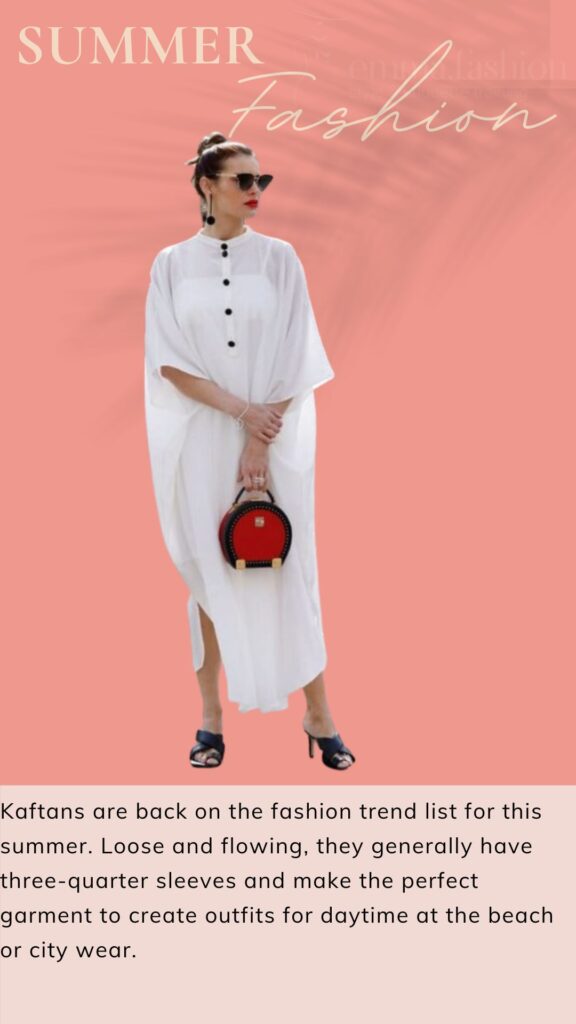 Linen fabric
Another key element to consider for hot weather is the fabric, and linen emerges as an excellent choice. Renowned for its breathability and comfort, linen allows air to circulate, keeping you cool even on the hottest days. Its natural fibers provide a lightweight feel that drapes beautifully, making it a go-to fabric for summer fashion. So, whether you opt for a linen sarong skirt or incorporate linen pieces into your ensemble, you can embrace the summer heat with the utmost comfort and style.
This summer is all about embracing effortless style and comfort. Sarong skirts and kaftans have emerged as must-have pieces for staying fashionable in the heat. Sarong skirts are versatile and perfect for beach outings or more formal occasions. Paired with strappy sandals or heeled footwear, they elevate your look while keeping you cool. Meanwhile, kaftans have made a comeback, providing loose and flowing silhouettes ideal for daytime beachwear and city fashion. Whether you opt for a beach-ready ensemble or elevate your kaftan with accessories for city wear, these garments exude a relaxed charm that perfectly captures the essence of summer. Additionally, the choice of linen fabric ensures breathability and comfort, making it an excellent option for hot weather. So, this season, make a statement with your summer style, embracing the revival of these timeless trends and creating ensembles that keep you looking and feeling effortlessly chic wherever you go.
---
Related Articles