Clothing must have a certain amount of contrast to be interesting. Tone-on-tone dressing can be both refreshing and challenging – when done right!
A well-crafted tonal look can be sophisticated and eye-catching, but achieving the perfect balance of hues and shades can be challenging. Wearing a single color from head to toe creates a visually cohesive look and expresses a sense of confidence and self-assurance. While some may think that wearing a single color could be dull, the reality is that it can be pretty dynamic. A tonal outfit allows you to experiment with various hues, tones, and textures to create a visually compelling look showcasing your style.
Whether you're going for a monochromatic outfit or a harmonious blend of complementary tones, with some creativity and experimentation, you can level up your tonal look that genuinely reflects your personality and fashion sensibility.
Here are some tips to help you level up your tonal dressing style:
Mix and match different color families
Instead of sticking to one color family, try mixing and matching other color families to create a more complex tonal outfit.
For example, you could mix shades of blue with shades of green or purple.
Experiment with patterns
While tonal dressing is often associated with solid colors, you can also experiment with patterns to add interest to your outfit.
Try mixing different patterns within the same color family, like stripes, polka dots, or florals and checks.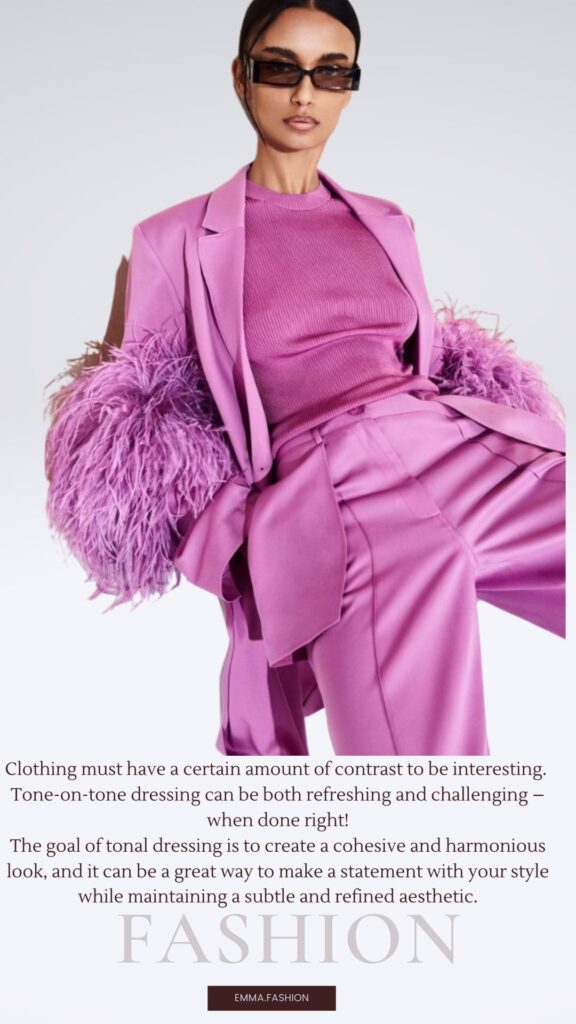 Rely on neutrals
Bold colors and neutrals are the keys to a tonal look that's on point. A bold color can be much less intimidating when paired with neutral pieces like black or white, and these colors will help make your look more cohesive.
You can use a bold color as an accent piece or go tonal with an outfit in bright hues from head to toe and have a neutral accent piece. If you're going for a more subtle approach, try mixing shades of the same color in different hues. This will help create depth and dimension in your outfit.
For example, to counterbalance a bold hue, pair it with neutrals like beige, gray, camel, or white. It adds contrast and pulls together a tonal look.
Incorporate statement pieces
To add some drama to your tonal outfit, incorporate a statement piece like a bold coat or a brightly colored bag. This can help break up the monochromatic look and add some visual interest.
Adding a statement piece to your outfit can give you the boost you need to take things up a notch. This can be as simple as adding an accessory or as bold as incorporating an entirely new color into your look.
Pay attention to details
When it comes to tonal dressing, the details matter. So pay attention to the small details like buttons, zippers, and stitching, and make sure they complement the color and texture of your outfit.
Mixing and matching different color families, playing with patterns and proportions, and paying attention to the small details, you can take your tonal dressing style to the next level and create truly unique and sophisticated outfits.
---
Related Articles