Elevate your fall style by seamlessly blending fashion and professionalism.
This season, embrace the magic of fall to create a wardrobe that seamlessly blends your fashion-forward sensibilities with your unyielding professionalism. It's the time to infuse your wardrobe with rich textures, warm hues, and tailored silhouettes that not only keep you cozy but also make a powerful statement. Whether heading to the office, a business meeting, or simply navigating your daily routine, the fall trends allow you to harmoniously merge style and professionalism, ensuring you radiate confidence and grace in every step you take.
Waistline Silhouettes
Waistline silhouettes take center stage this autumn, offering a stylish blend of comfort and flair. Whether leaning toward high-waisted pants, cinched belts, or wrap dresses, these silhouettes accentuate your natural curves while providing a sophisticated and polished look.
High-waisted trousers are a timeless choice for a flattering silhouette, perfect for office and casual outings. Pair them with tucked-in blouses or sweaters to showcase your waistline. Wrap dresses are equally versatile, offering a hint of vintage charm that's been revitalized for the modern woman.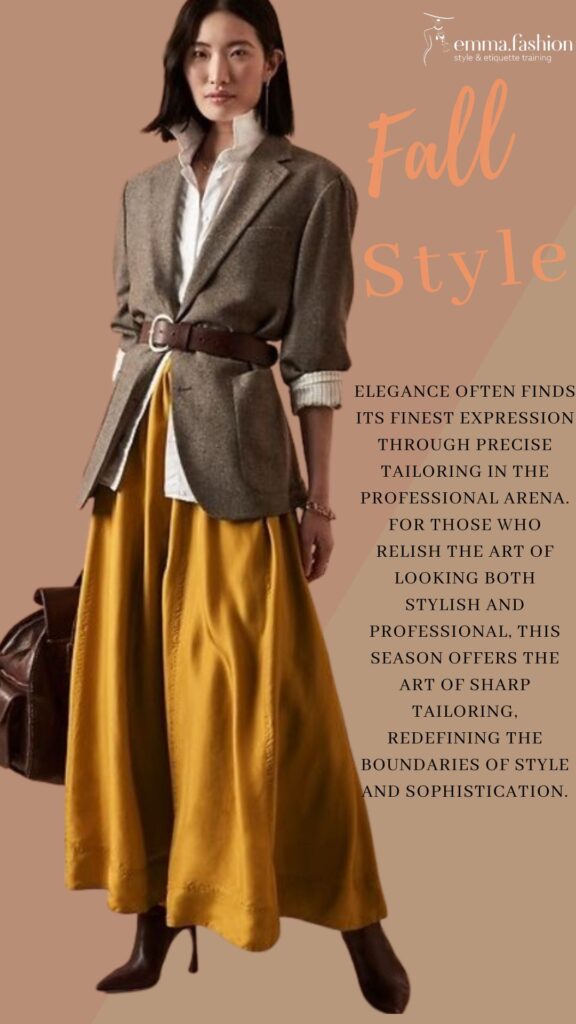 Mock Necklines
This fall, say goodbye to plunging necklines and hello to the chic mock neckline. These stylish, high-neck tops and dresses are both cozy and elegant, offering a touch of sophistication to any outfit. Mock necklines keep you warm and comfortable without compromising your style.
You'll find mock necklines adorning sweaters, dresses, and even jumpsuits. These versatile pieces can be dressed up or down and work wonderfully with accessories like statement earrings or necklaces. Mock necklines create a polished and refined look, making them an essential element of your fall wardrobe.
Relaxed Suiting
Suits have been a fashion staple for decades, but the trend leans toward relaxed suiting this fall. Say goodbye to overly structured blazers and tight-fitting trousers and embrace the effortless elegance of slouchy, relaxed suits.
Oversized blazers paired with wide-legged pants or culottes are the epitome of comfort and style. Choose earthy, autumnal tones like deep browns, warm grays, and muted greens to complete the look. This trend is perfect for casual and professional settings, allowing you to exude confidence and comfort simultaneously.
Maxi Skirts
Maxi skirts have always been a go-to choice for those who crave comfort without compromising style. This fall, they are back in full force, bringing an air of bohemian and vintage charm.
Opt for rich, textured fabrics like velvet or corduroy for a cozy autumn feel. Pair your maxi skirt with a tucked-in sweater or a slim-fitting turtleneck for an effortlessly chic look. Complete the outfit with knee-high boots or ankle booties to stay warm and fashionable during those brisk fall days.
The fall trends for 2023 are all about embracing comfort and self-expression, and this season's waistline silhouettes, mock necklines, relaxed suiting, and maxi skirts deliver exactly that. Whether you're heading to the office, going for a casual outing, or preparing for a cozy night in, these trends offer a range of styles to suit your needs.
---
Related Articles