You have a closet full of casual clothes and dressy clothes. But what about that in-between layer? You need something that looks professional but still feels comfortable. A blazer jacket does the trick!
A blazer jacket is a great way to take your look up a notch without making it too formal or stiff. It's a great layering piece that can take your look from casual to professional—and still feel comfortable.
A blazer jacket is just what it sounds like: a jacket with buttons, lapels, and pockets, but it's cut like a blazer, so it has more structure than a regular jacket. It's perfect for those days when you need to look professional but still feel comfortable—when you go on an interview or meet with clients at work when you're headed to a meeting at the bank or doing some shopping at the mall. You can wear it over anything from jeans to a maxi skirt to a pair of dressy pants and feel confident in your outfit choice no matter what happens!
Blazer Jacket
A blazer jacket is a great way to add flair and style to your look while keeping it professional.
If you're looking for a way to elevate your casual outfit, try adding a blazer jacket. A sleek detail and classic fit can make even the simplest outfit feel polished and put-together.
Or, if you are going for a trendy layered look, go for a slightly oversized blazer jacket.
Pairing it with denim or a t-shirt will give you an edgy vibe, while adding some slacks gives you a more sophisticated look.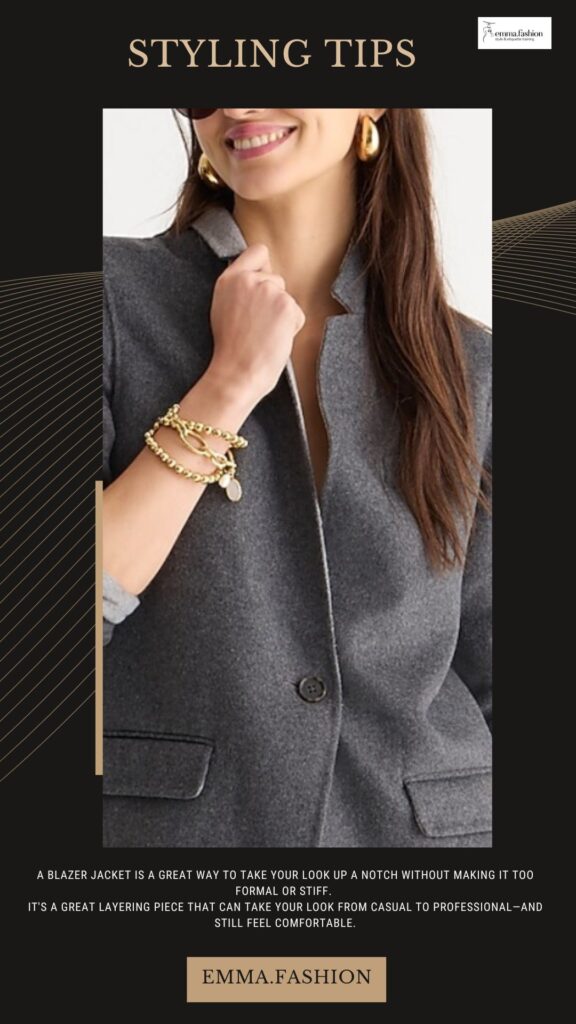 Sweater blazer jacket
A sweater blazer is a perfect layer when you want to look professional but still feel comfortable.
It combines the formality of a blazer with the softness of a sweater, making it the ideal choice for days when you want to look professional but still want to feel relaxed and comfy.
Wear it over a button-down and tuck the shirt into the pants or skirt so you don't look too casual.
When wearing a sweater blazer, keep your look sleek and simple. A tailored bottom will complement the casual feel of the jacket.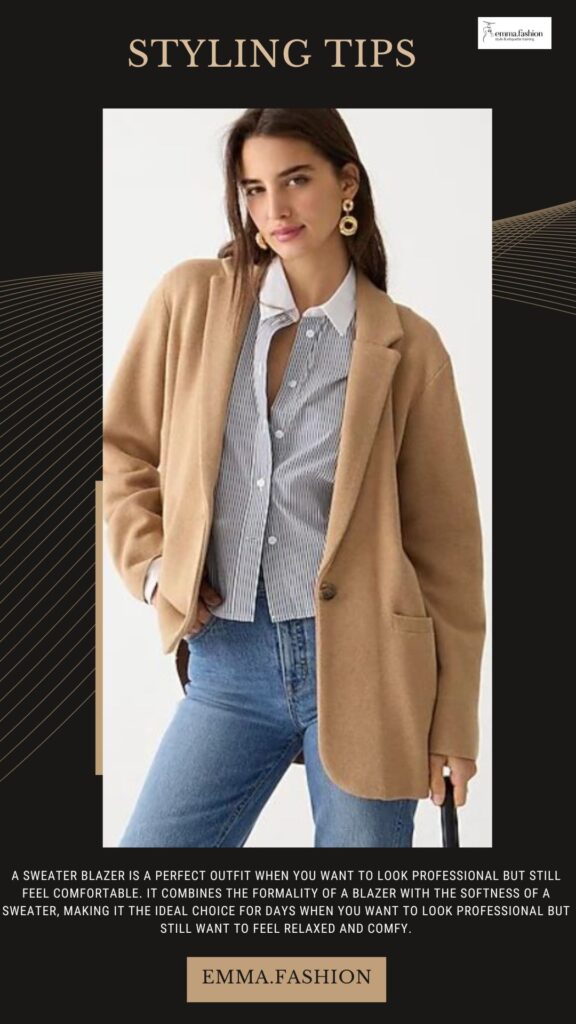 Relaxed blazer jacket
Choose a relaxed blazer in neutral colors like navy or beige because it will offer versatility while still being understated enough not to dominate your outfit.
You'll be able to wear this piece with almost anything and create so many different looks. Plus, it's easy to dress up or down, depending on what else you're wearing with it.
Look for button-up sleeves that allow for versatility in styling—you can roll them up for a sportier look or leave them down for something more elegant. And the buttons add an extra pop of color to add extra style points!
Wear it with a classic button-up shirt and jeans, or dress it up with a printed top and heels.
The key is how you style it
Make sure the blazer is on the looser side and fits well on the shoulders.
Choose the right top that makes sense with the jacket.
If you have a more casual office, this might be a polo or a t-shirt.
Try pairing it with a button-up shirt if you have a more formal office.
Wear dark denim jeans or chinos for a casual look, or opt for tailored trousers for something more formal.
When choosing a blazer jacket, think about what colors you wear most often and what colors will go with those pieces in your closet. For example, if you have a lot of black pieces in your wardrobe, try adding a splash of red or blue. On the other hand, if you tend to wear mostly neutral tones like khaki or navy blue, try picking out one vibrant color like green or purple to mix things up!
Keep it simple! A blazer jacket is a great way to add a little edge to your outfit, but it can also be too much if you try to do too much with it.
Keep all of your other accessories and jewelry simple. Choose one piece that stands out—a bold necklace or a statement bracelet—and then keep everything else simple and classic.
---
Related Articles