This fall season, fashion takes a bold step forward, embracing a rich blend of nostalgia and innovation. From timeless classics with a contemporary twist to daring avant-garde expressions, Fall 2023 promises a mesmerizing array of styles that cater to every taste.
Embark on a journey through the captivating trends set to dominate wardrobes and capture hearts in the coming months. Get ready to immerse yourself in a world where tradition meets modernity and where self-expression knows no bounds.
Allure of affluence
Fall 2023 fashion trends focus on exuding an air of richness through subtle and understated choices. The key lies in selecting subdued colors like beige, red, burgundy, and green, which reflect light elegantly. Black remains a reliable option for elevated occasions. Accessorizing plays a crucial role, with leather items featuring discreet logos or embossed designs offering a touch of luxury. Sunglasses are a notable addition to a polished look. The overall approach emphasizes the art of appearing affluent by balancing sophistication with simplicity.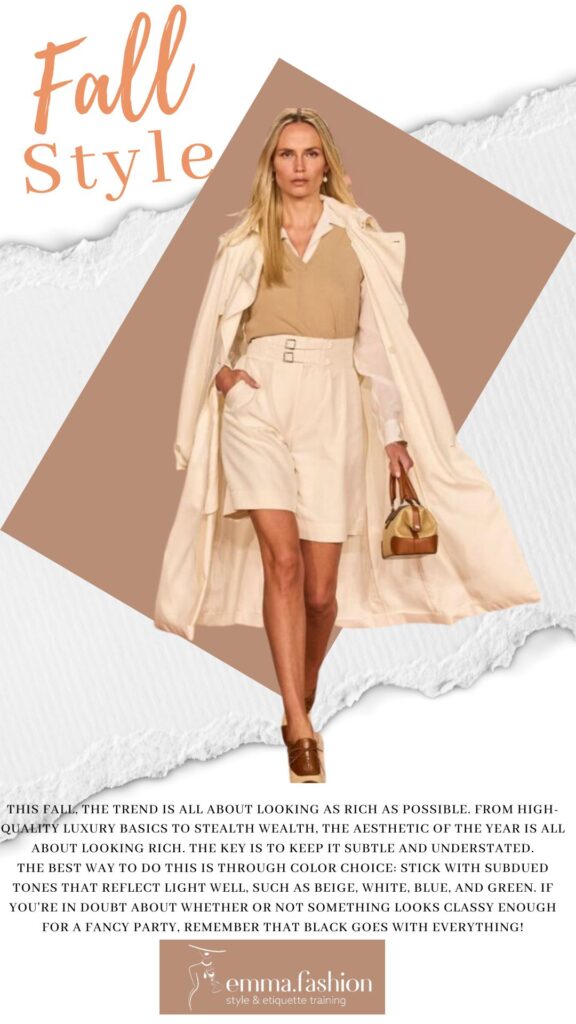 Charming Fringe
The fringe trend resurged with captivating energy in Fall 2023, infusing garments and accessories with dynamic movement and a touch of bohemian charm. This season, fringe is reimagined, taking on various forms, from delicate tassels to bold cascading strands. Designers have seamlessly integrated fringe into every aspect of fashion, from flowing dresses that sway with every step to statement bags that sway playfully. The fringe trend adds a sense of playful movement to outfits, offering a perfect blend of nostalgia and modernity that captures attention and adds a delightful flair to Fall ensembles.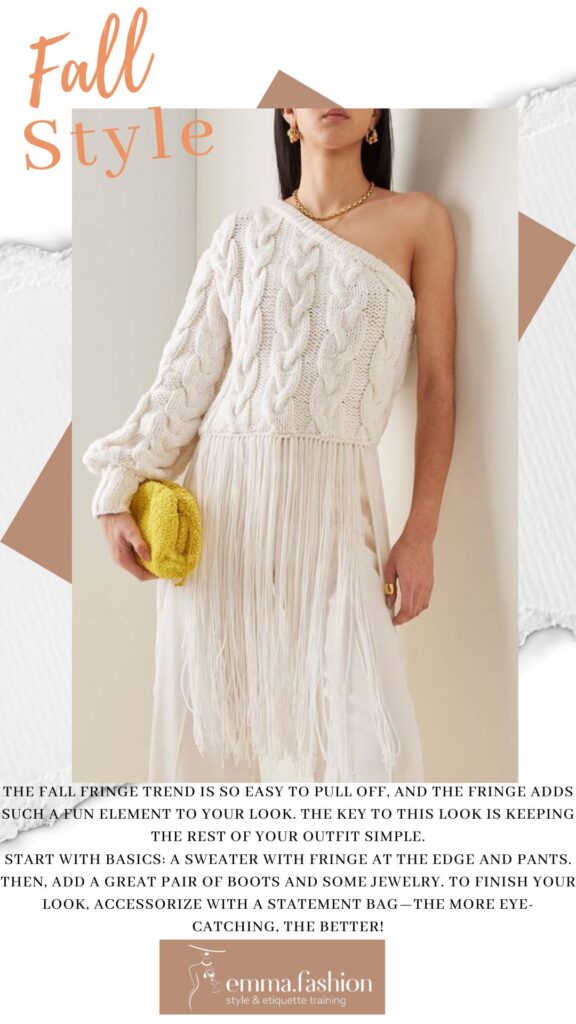 Cozy corduroy
Fall 2023 sees corduroy making a triumphant return, reimagined in contemporary silhouettes and unexpected hues. This textured fabric brings a tactile dimension to wardrobe staples, from tailored blazers that exude sophistication to wide-legged pants that combine style with coziness. The versatility of corduroy knows no bounds, effortlessly transitioning from casual weekends to polished office attire. Its rich ribbed texture adds depth to outfits, creating a visual and tactile feast for fashion enthusiasts seeking an autumnal touch that is both nostalgic and refreshingly modern.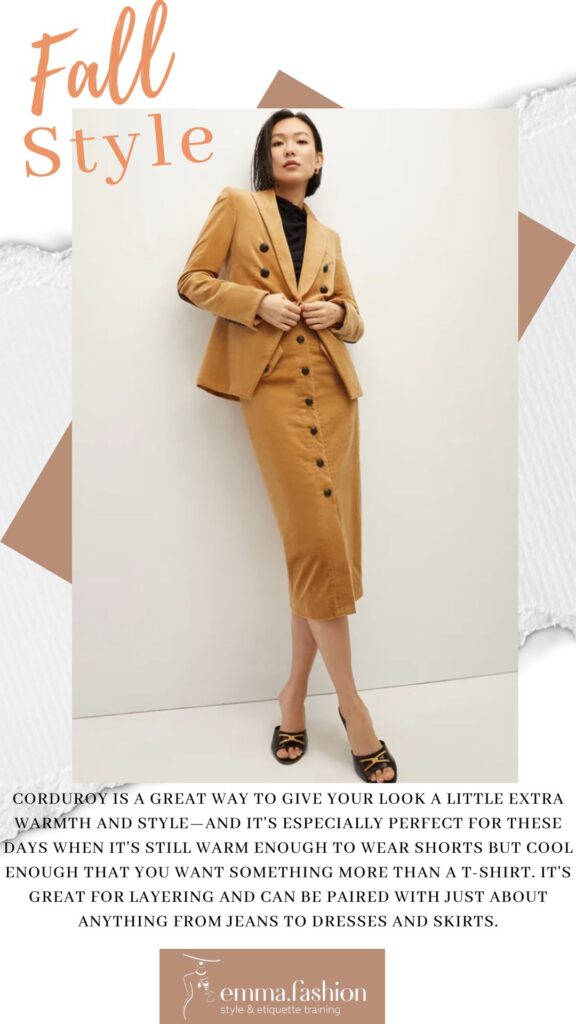 Elegant rosette accents
Rosette accents are a captivating embellishment for Fall 2023 fashion. They evoke a sense of romanticism and elegance. Rosette accents grace an array of garments and accessories, infusing them with a touch of whimsy and sophistication. From dresses adorned with three-dimensional rosettes that create a sense of ethereal movement to handbags adorned with a single bloom, this trend celebrates the art of intricate detailing. Rosette accents offer a versatile appeal, seamlessly transitioning from daytime chic to evening glamour. Whether delicately embroidered onto knitwear or serving as focal points on statement pieces, these charming embellishments embody a fusion of nature-inspired beauty and sartorial finesse, making them an enchanting addition to the autumn fashion landscape.
This season, the fashion landscape offers a rich tapestry of style and self-expression. From the resurgence of fringe, which provides both dynamic movement and bohemian flair, to the comfort of corduroy, offering texture and versatility, many trends will appeal to all kinds of people. Whether you prefer muted tones or delicate embellishments in your clothes, this season has something for everyone. Each trend embodies its unique essence, so whether you're an aspiring designer or just love fashion, create individual narratives that resonate with your personal aesthetic by experimenting with these looks!
---
Related Articles