The new year is a time to look forward to the possibilities of what could be. It's also a time for reflection and celebration, which means parties and gatherings. If you're looking for a way to express yourself while still feeling confident in your dress, here are a few styling tips:
Wear something that makes you feel good about yourself.
Don't feel like you have to wear something fancy or expensive. Just pick something that makes you feel good, and you'll shine no matter what.
You will have a great time if you feel good about your appearance.
Check all details of your outfit, and it will make you feel fantastic.
Accessorize with your best jewelry and shoes.
Accessories are great because they are an easy way to add personality to your look without much effort.
Make sure your jewelry is not too heavy, or it will weigh down your look.
Big and bold jewelry is not always attractive! Instead, choose ones that enhance your best features, a pair of earrings or necklace, or a statement ring.
Wear heels just a little higher than you usually would—this will elongate your legs and make you feel more confident!
Use makeup to highlight your best features.
Makeup can highlight features, but it also makes them look as though they're fake. Remember that less is more.
Your focus should be on your eyes, lips, and skin for a natural look. Use blush or bronzer on the apples of your cheeks or eyeliner to emphasize the shape of your eyes.
Make sure your makeup is done well, with the right amount of lip color and eye shadow.
Even if it's just mascara and lip gloss giving yourself a little extra boost can make all the difference in how confident you feel when walking into a room full of strangers who are hopefully ready for a great night out together!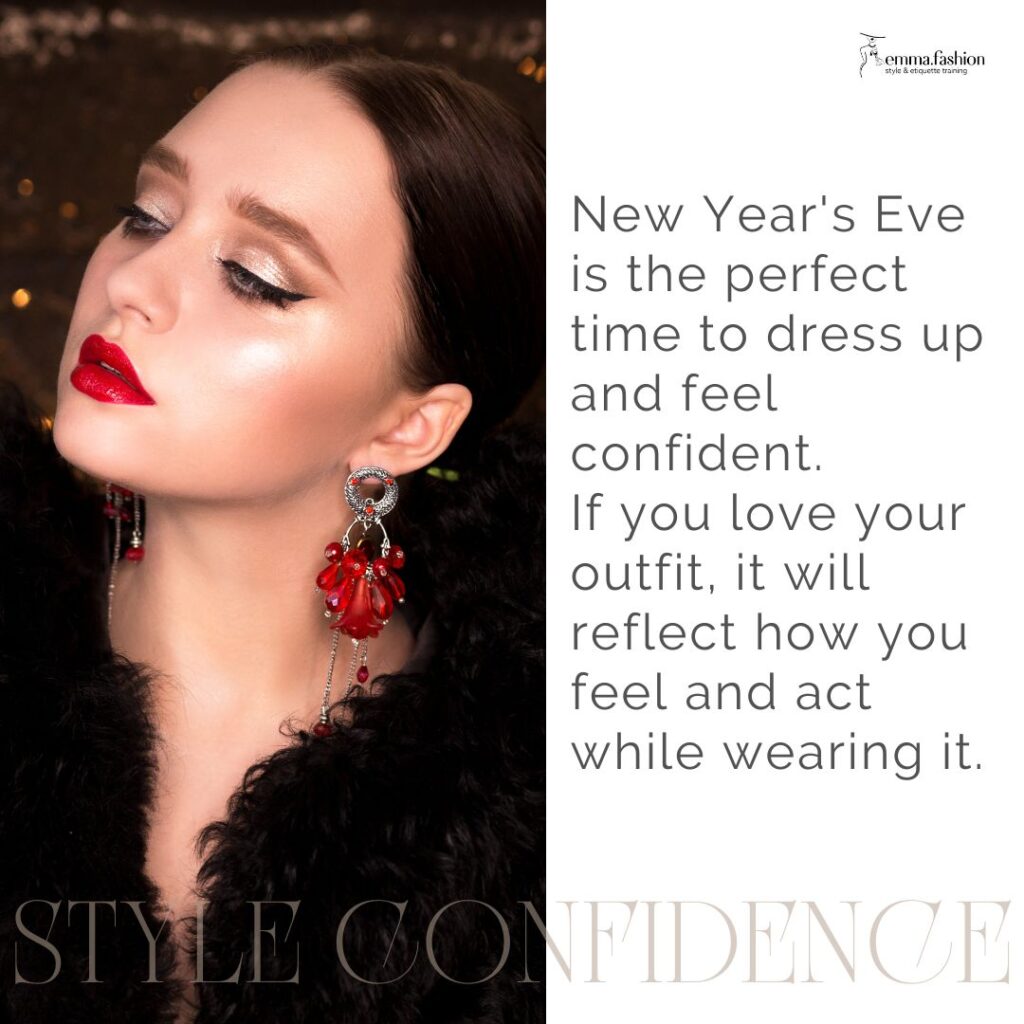 Your hair is an important accessory.
Taking care of your hair is just as important as the clothes you wear.
Clean, healthy-looking hair makes you feel better about yourself.
Regarding formal events, it's best to opt for updo hairstyles. Curls are the way to go, however, for a casual look.
Use body language to project confidence.
Your appearance and body language have an impact on how people perceive you.
Make sure that your body language is open and inviting.
You'll feel more confident standing with your arms uncrossed and your shoulders relaxed and looking at the person you are talking to.
When standing or sitting down, put one hand on your hip and tilt your head slightly so people can see how pretty you look in that dress!
The best way to make a lasting impression is to look good while feeling confident. It's the combination of both that creates an unforgettable moment. When you're armed with both of these, there's no reason this New Year's Eve can't be the best yet.
Happy New Year!
---
Related Articles