Layering for fall looks can be demanding for many of us, especially when you want to look professional without compromising your personal style.
One of the rules to keep in mind when layering fall outfits is to strike a balanced outfit. And tucking is one of the styling tips that can help you to combine separates while keeping a proportional look.
The power of tucking is to transform an outfit and achieve different looks from professional to casual and stylish. Here are the top three tucking styles you can start experimenting this fall season:
The French tuck – is a casual chic way to tuck in a shirt, a tee or a sweater that is oversize or loose. The French tuck or the front tuck is just simply tucking the front of your top while leaving the back loose. Do not tuck the sides! The whole point is to create the messy but put together effect, something that draws the attention that gives an instantly appealing and distinctive look helping to add balance to your silhouette. 
Create a chic casual look playing around with how much you tuck in the front and how much you leave the sides loose.
Half tuck style is a simple technique to fold one side of your top into a skirt or pants and to leave undone, to hang out, the other side. You can use this styling trick when you wear a button-down shirt to add just the right amount of a fresh, dynamic feel to your look: deliberately undone yet looking polished.
The half-tuck style is easy to achieve and great for after business hours when you want to look more relaxed.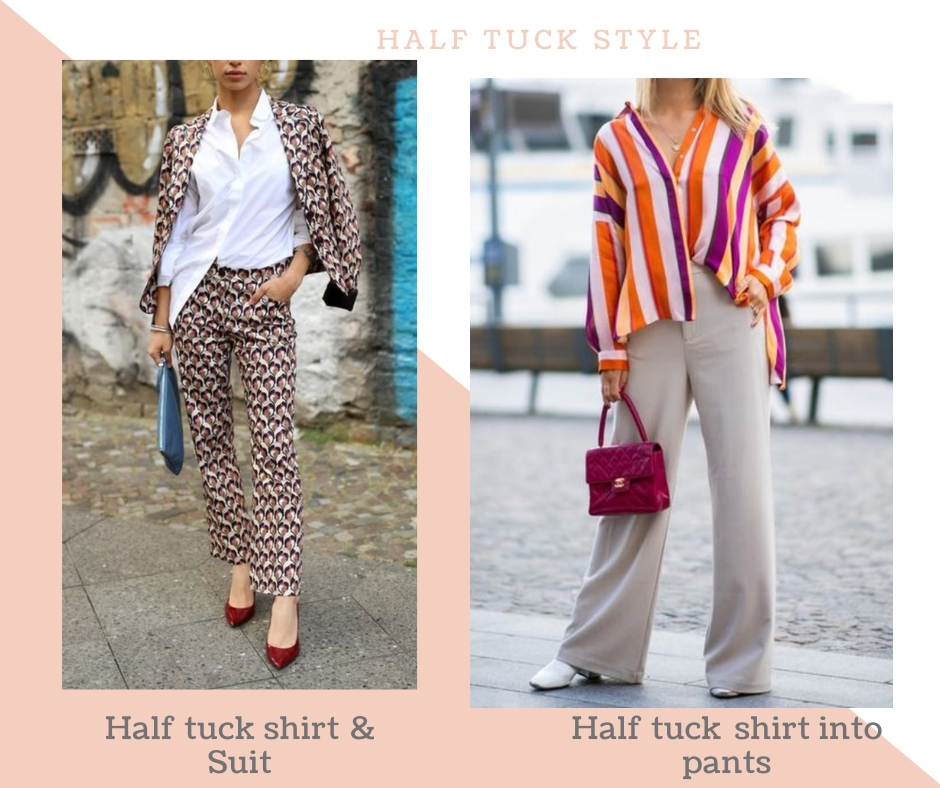 The full tuck is a safe and classic way to pull your look together and to create a polish appearance when you want to make a winning impression. This tuck style is slightly more formal and appropriate for the office and business settings. A belt can always do the trick for adding a personal touch.
Don't forget, wherever in doubt, adopt the classics.
---
Related Articles