As the fall season is fast approaching, you may consider a t-shirt as the layering piece to add a modern aesthetic to your look.
A t-shirt is the staple piece for casual, low-key wear from the gym to the beach and street style. But lately, it has become the key piece for layering tailored garments like a suit or blazer. 
Master the art of layering a t-shirt like a stylist with a few tricks and styling tips.
Styling tips
Find the perfect fit
Choose a classic cut with well-fitted shoulders and seams that line up with the ends of your shoulders. So it's not too tight around your chest and waist.
The length of the tee should be long enough without exposing your midsection when raising your hands.
A well-fitted t-shirt should drape over your chest and follow the line of your torso.
Choose high-quality fabric
The higher the fabric quality, the longer will last and hold the color and shape of the t-shirt.
Look for soft, breathable, and less likely to wrinkle materials such as linen blends, merino, jersey, and stretchy fabric like lycra or spandex.
Do not choose synthetic fabric except for sporty activities.
Do not choose an ultrathin or lightweight fabric because it may look like an undershirt instead of a t-shirt garment.
Pay attention to the neckline.
A double-stitched neckline, especially if it's white, makes the t-shirt look higher quality.
Crewnecks flatter almost all body types and are the best choice for women with a thinner frame.
V-necks give the illusion of height and balance a short torso or neck.
Stay away from t-shirts with logos or graphics and choose solid colors like grey, navy, black, or white.
5 ways to dress up and layer a t-shirt
Wear it with a colorful bottom
Wear the basic tee with playful print pants or skirts, and try the full tuck for a streamlined silhouette.
Dress up with a blazer and pointed pumps.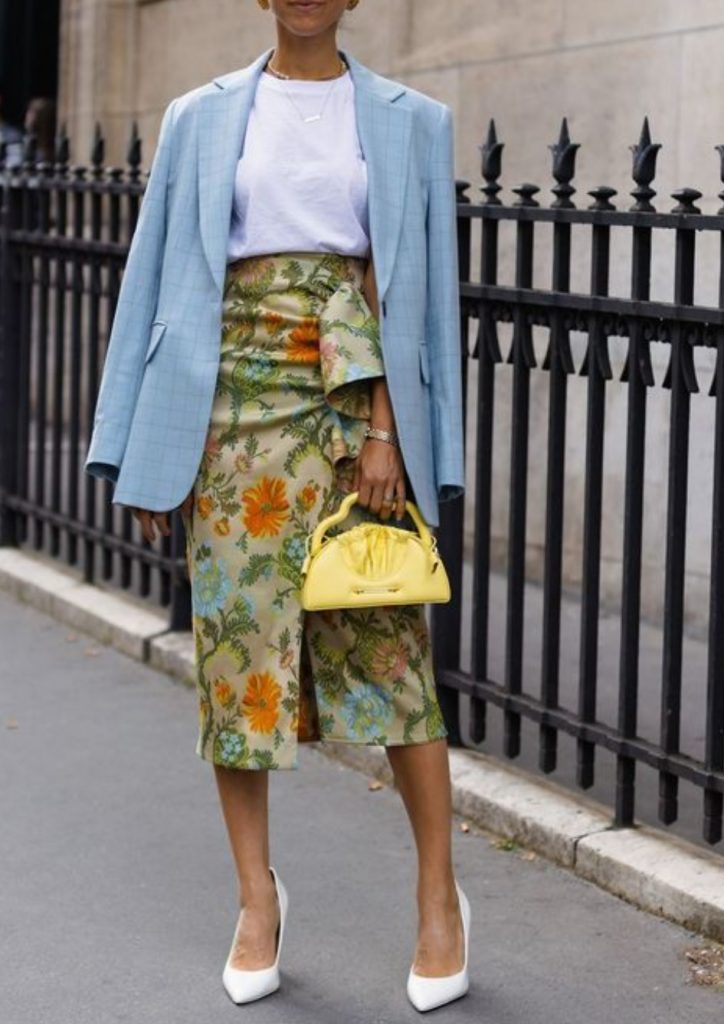 Polished workwear
Dress up a tee with forever classic tailored pieces.
Choose a white crisp crewneck t-shirt and tuck it into pants or a skirt.
Chinch a belt around the waist to add texture and personal touch.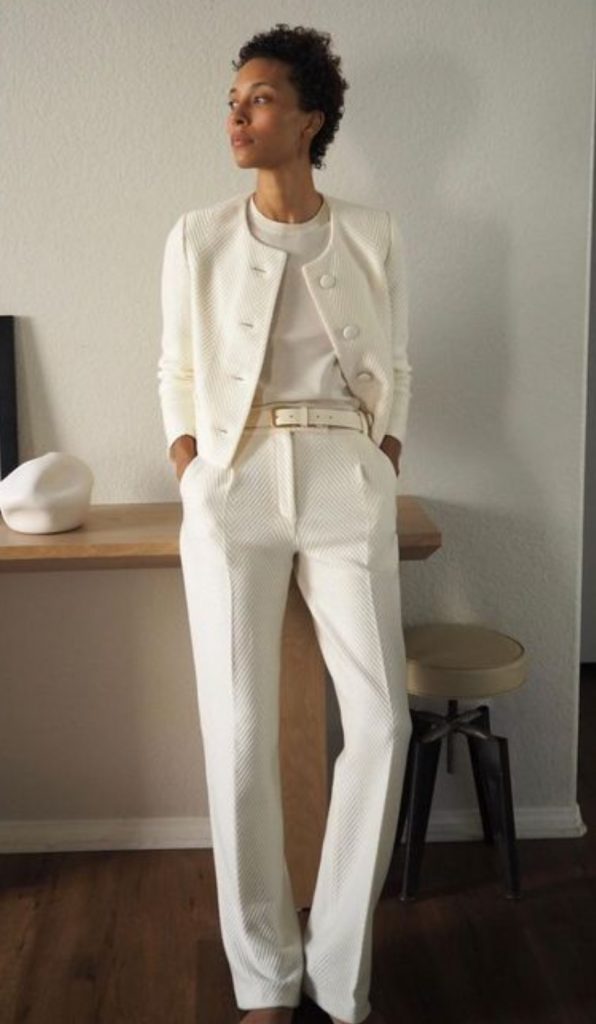 Layer up
Layer long sleeves under a slightly oversized t-shirt, play with textures and patterns, and add colors with accessories.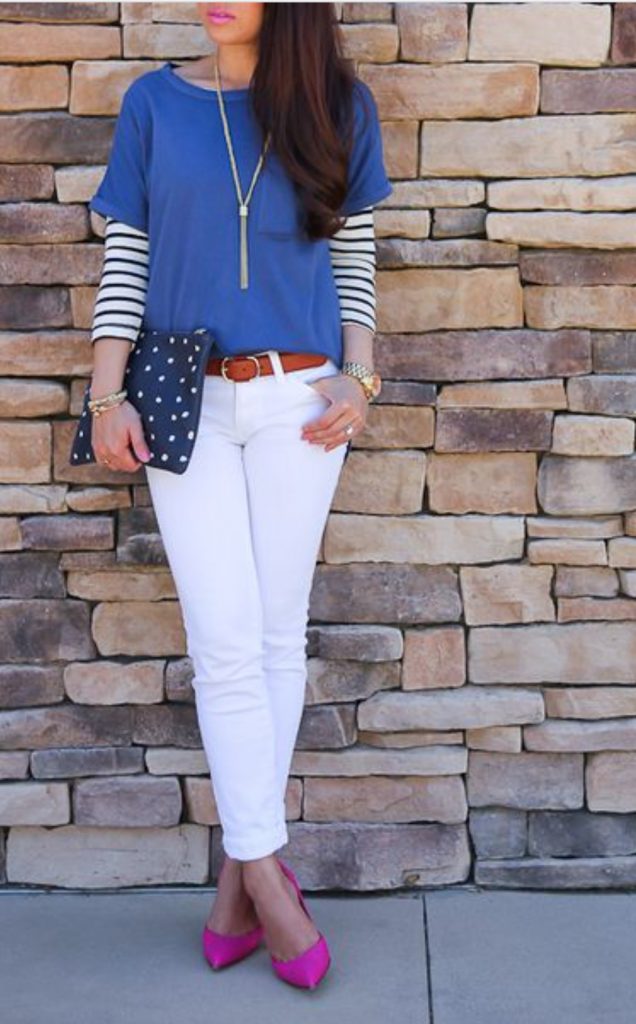 Update the classic
Update the classic jeans and tee combo with a smart blazer.
Bring a distinctive allure layering a crewneck tee under a v-neck vest for an interesting neckline.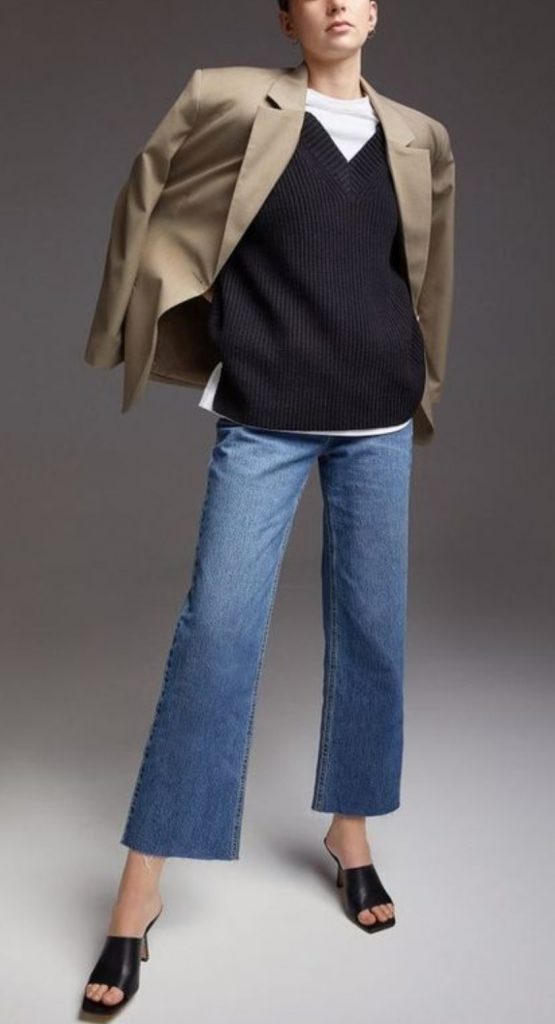 Suit up
A suit and a t-shirt is the modern approach to business attire.
Keep your look cohesive and polished by tucking in the t-shirt and a splash of color with a bright handbag.
---
Related Articles