The gift of flowers offers genuine thoughts and feelings which are expressed in an elegant manner.
Flowers are a wonderful way to express genuine thoughts and feelings, and their beauty and elegance make them a popular choice for special occasions like Valentine's Day. Giving flowers conveys a message of love, affection, appreciation, and support, and it is a timeless gesture that has been cherished for generations. Flowers lift spirits, bring a smile to someone's face, and make a lasting impression. Whether you are offering a simple bouquet or a more elaborate arrangement, the gift of flowers is always a thoughtful and meaningful way to express your feelings.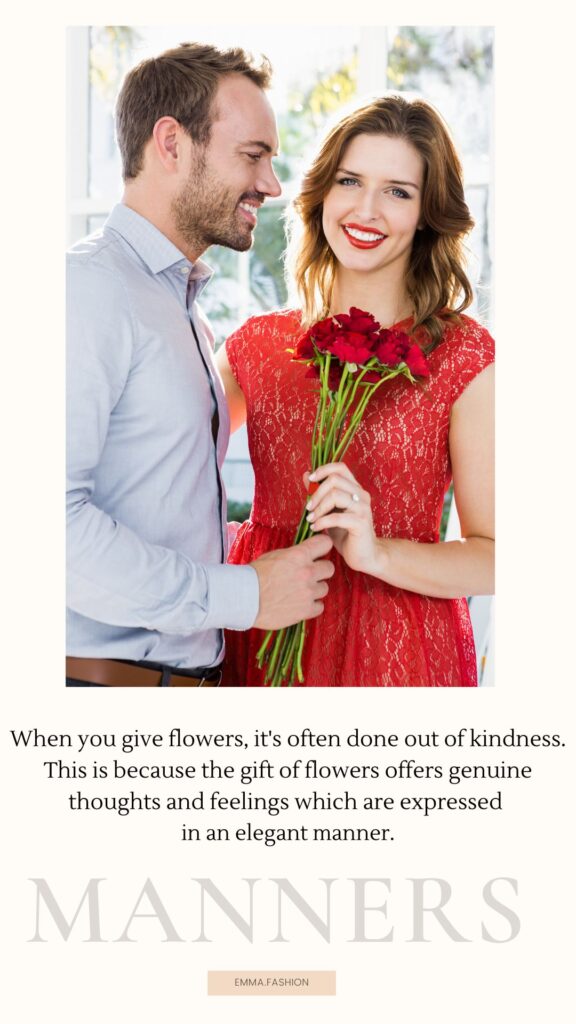 Here are some manners for offering flowers on Valentine's Day:
Choose an appropriate bouquet
Choose a bouquet appropriate for the occasion and the recipient's taste. A bouquet of red roses is a classic Valentine's Day gift, but other flowers, such as tulips, lilies, and orchids, can also be a good choice.
Consider the presentation
The way you present the flowers can make a big difference. A beautifully wrapped bouquet or a bouquet arranged in a vase can add an extra touch of thoughtfulness to your gift.
Accompany with a card
A card or note can accompany the flowers to express your feelings and add a personal touch.
Be considerate of allergies
If the recipient has allergies, consider getting them a bouquet of flowers to which they are not allergic.
Timing is important
If you are giving the flowers in person, try to give them when the recipient is available and not busy with other things.
If you are sending the flowers by delivery, make sure to arrange for the delivery well in advance so that they arrive on time.
Be respectful
When offering flowers, make sure to do so in a respectful manner and avoid any actions that might be considered rude or inappropriate.
Giving flowers is often a gesture of kindness, love, and affection. It is a way to show someone that you think of them and care. Flowers can brighten someone's day and spread joy, and they can convey a difficult message to express through words alone. Whether you are giving flowers to a significant other, a friend, or a family member, giving flowers is always a kind and thoughtful gesture.
---
Related Articles