Chic is about having a sense of style and taste that is effortless and refined. Chic is the essence of casual refinement, understatement, and simplicity.

 Genevieve Antoine Dariaux
Chic is a way of dressing that can improve your appearance. It's characterized by timelessness, elegance, and simplicity. By focusing on classic pieces that are well-made and well-fitted, you can create a polished and put-together look. In addition, chic dressing often involves attention to detail, such as accessorizing with statement jewelry or a scarf, keeping hair and makeup simple and polished, and wearing clothing that flatters your body shape.
What does it mean to be chic?
Chic is about how a woman presents herself with her clothes.
It's about dressing well, being tasteful, and being confident in your choices.
Chic isn't just about what comes off the rack; it involves thinking about how everything fits together.
It's about having a sense of style—knowing what works for you and how to make it work for you.
A chic look is about looking like you've thought about how you present yourself.
When you want to look chic, less is definitely more. You don't need to go overboard with your outfit. It's all about subtlety and effortless style.
The secret to looking chic is to have a confident and polished appearance, and the focus is on timeless and well-made clothing that exudes quality.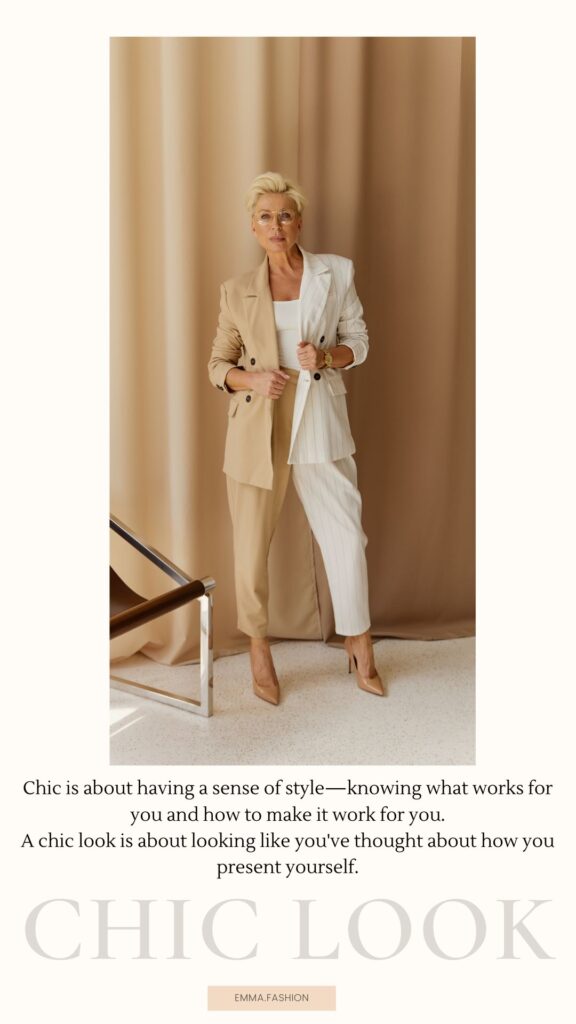 How can you look chic?
Invest in quality and timeless pieces that will always stay in style.
Invest in classic and well-made clothing such as a tailored blazer, a crisp white blouse, or a little black dress. These pieces can be dressed up or down and provide a foundation for building a chic wardrobe.
Tailoring is key
Ensure your clothing is well-fitted and tailored to your body shape. This will ensure that your clothing looks polished and put together. A well-tailored piece can elevate any outfit and make it look chic.
Stick to a neutral color palette
You can stick to the basics when you create a chic and cohesive look. A neutral color palette can be just as stylish as one full of bold colors. Black, white, gray, beige, and navy are all timeless shades that will always look elegant.
If you want to break up the monochromatic look with some color, try choosing one or two additional hues that coordinate well with your other pieces. For example, wear red heels or a pink purse with a navy dress.
Incorporate chic elements into your wardrobe
Look for flowing, flattering fabrics.
Add some lace to your look for an elegant touch.
Try layering different textures like satin over cashmere for texture and depth.
Opt for clean, classic cuts instead of anything too busy or trendy.
Pay attention to small details
There are many ways to add chic elements to your wardrobe, like lace, leather accents, or embroidery. These little details can make all the difference when it comes to feeling confident and poised in your own skin.
It's important to remember that there is no one way to be chic. There are many ways to look chic—the way you wear your hair, the shoes you choose, the clothes that hang in your closet—but there's no one right way to do it.
We all have our definition of chic, so don't be afraid to embrace it!
---
Related Articles