We all dream of a summer vacation at the beach! Now, with the restrictions loosening up, our dream can become a reality. After all the planning, searching for the perfect destination, and finally finding the perfect beach vacation, you can barely wait to be on the beach.
The most important question is always, "what should I wear?" On the one hand, you wonder if you look outdated wearing last year's swimsuit while on the other hand, you may not feel confident wearing the latest fashion trend bikini, which may reduce your enthusiasm.
Here are a few etiquette tips for choosing the perfect bathing suit and feel confident on your beach vacation.
The destination is especially important when choosing what to wear on the beach.
I believe that location is the number one factor to consider when choosing what to wear on the beach.
Do your homework and search for details of the destination and the locals, their culture and history. Getting a better understanding of the place will help you decide how to dress appropriately.
Vacation at the beach in a foreign country
You should keep an open mind to the cultural elements of the dressing code in the foreign country you are heading for.
Many cultures and people have a unique standard for how a woman should reveal her body at the beach.
In some countries, women expose more of their body while in other places emphasize a modest look for women on the beach. The best strategy of adopting a proper etiquette is to perceive and accept the country's dressing code and look at it from a different perspective than your own.
When visiting a foreign country, it is a good idea to skip fashion trends and opt for a one-piece solid color bathing suit with a cover-up. You cannot go wrong with this style combo!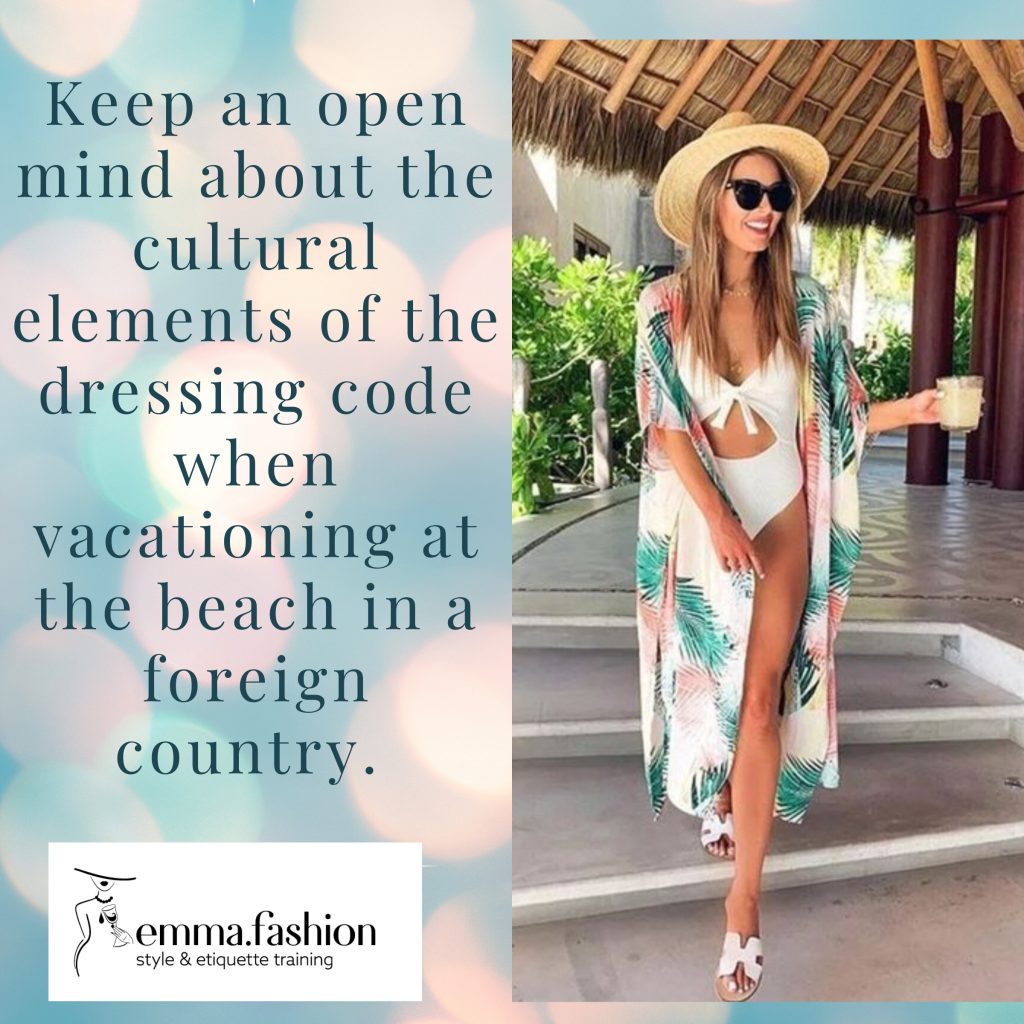 A family-oriented destination is about modesty and common sense.
First, you should choose to wear a swimsuit that flatters your body shape and suits your style. Balance your personal preferences with people's perception of your appearance. A strong reaction to you wearing a revealing bathing suit might not be something you desire. Looking pleasant and comfortable in what you wear is not merely showing good mannerism but also making people feel comfortable around you.
Second, the best way to keep this balance is to shop for a bathing suit when you arrive at the destination. Go to a local store, and you will figure out what to wear on the beach when you see the styles displayed in the store. There are also chances you will make a unique appearance back home when wearing the new bathing suit after returning from your vacation.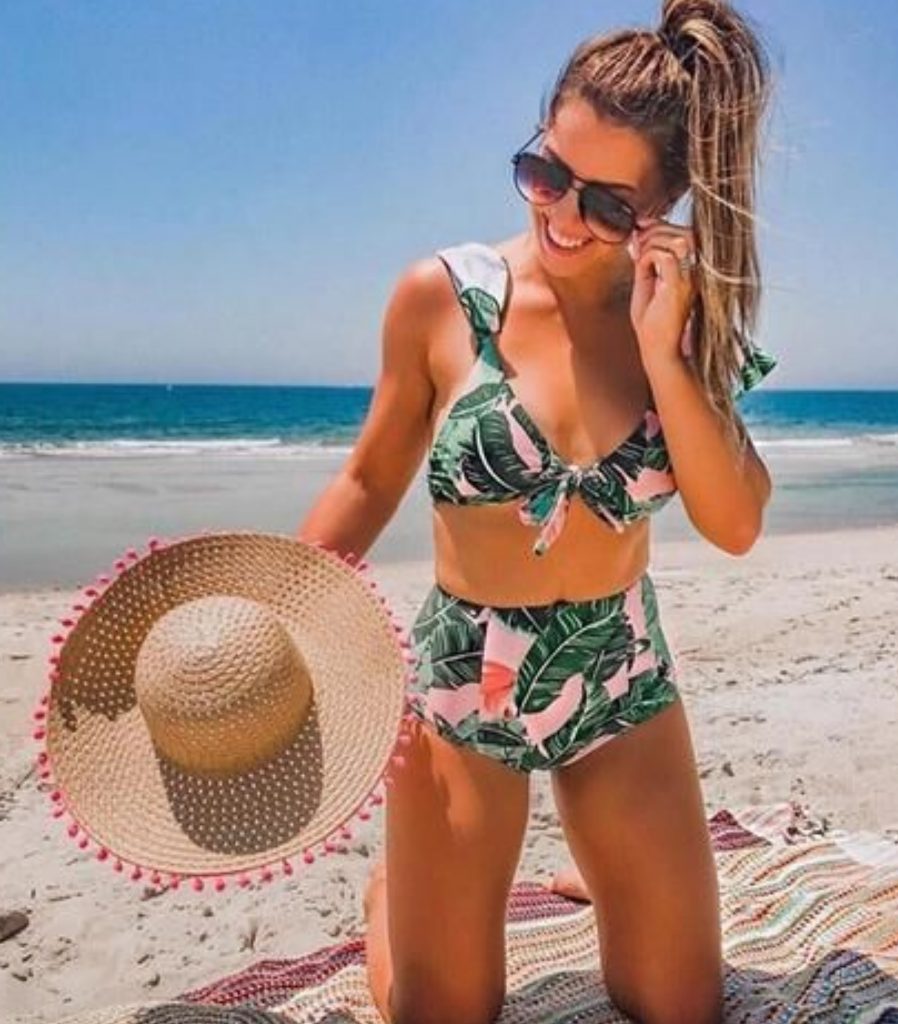 Island getaway for couples
A trip to a romantic getaway offers a variety of experiences and allows you to indulge in a relaxing and intimate atmosphere fully. Savor the island lifestyle wearing revealing necklines, cut-outs, off-the-shoulders bathing suits with high-cut bikini bottoms shaping your best features. And nothing can stop you from going with the latest fashion trend styling a one-piece swimsuit with fresh tropical or wild animal prints.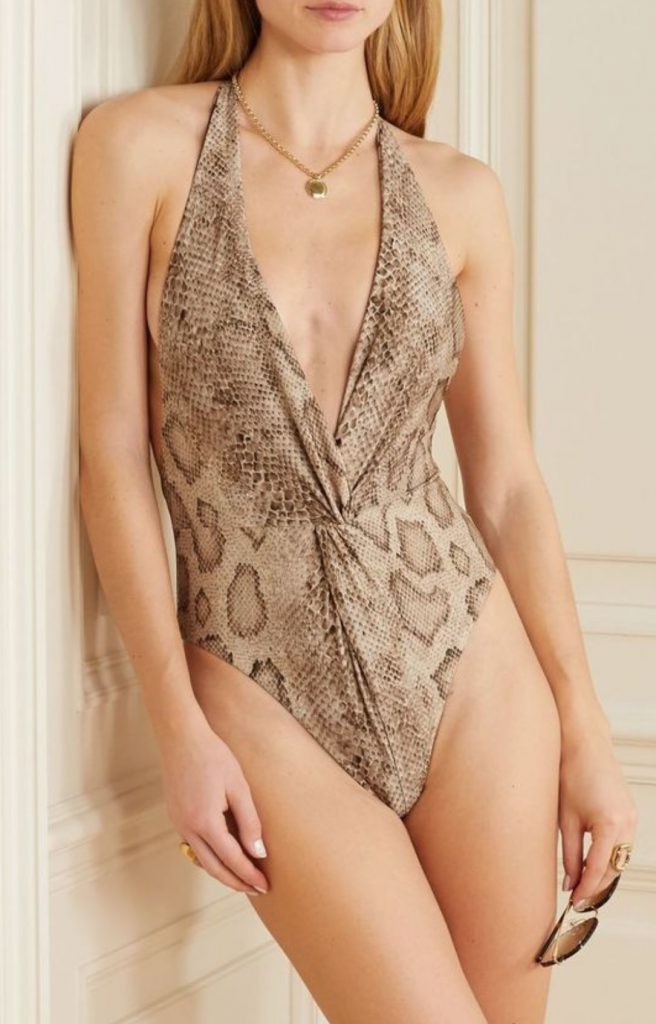 Confidence, attitude, and well-fitted swimsuit are the secrets to looking and feeling good at the beach.
The secret of feeling good at the beach and relaxed in your bathing suit has nothing to do with your weight, size, or body shape. Everything is related to confidence, attitude, and requires wearing a well-fitted swimsuit. Stay true to yourself and wear a bathing suit that suits your personality and works for your body. Are you a sporty person? Skip the bikini and go for a one-piece swimsuit or a tank and shorts. Are you the bold type? Wear a bikini and a one-shoulder top to expose your best features.
Beach confidence is not limited to finding a great swimsuit. You need the whole package when dressing for the beach: sunglasses, sunhats, shoes, and a beach tote. You can add some earrings or even a necklace. This way you feel well-put-together and confident.
Do not forget to strut on the shore like you are the most important woman on the beach. People will notice your attitude before your look.
The etiquette of wearing an appropriate bathing suit at the beach is not about a woman's size, age, or body forms; it's about dressing appropriately for the destination, people you are surrounded by, and showing respect for the culture of the country you visit.
Ultimately, for you, the key element when wearing a swimsuit is confidence. For the people around you, it all comes down to how you carry yourself in that swimsuit.
Click here and find styling tips on how to choose the right swismsuit.
---
Related Articles